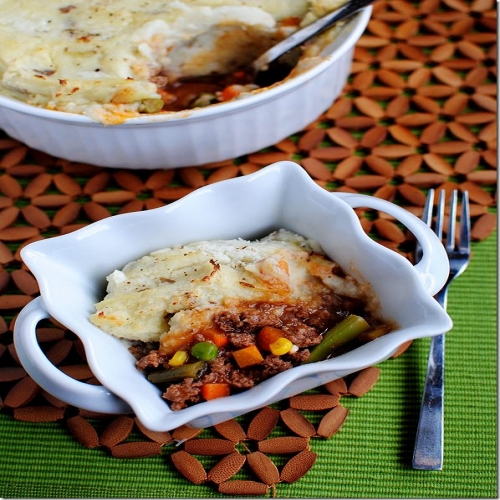 Prep Time:
Cooking Time:
Serves:

6-8 servings
Healthier Mashed Potatoes: The Cast
Category: Dinner Party, Peppers, Beef, Potatoes
Ingredients List
For the Healthier Mashed Potatoes:
2 large potatoes
1 head cauliflower
2/3 cup 2% milk (could use skim or 1%)
3 Tablespoons butter, divided
salt & pepper
For the Shepherd"™s Pie filling:
1lb ground beef
1/3 cup onion, chopped
2 garlic cloves, minced
salt & pepper
3 Tablespoons flour
1 Tablespoon tomato paste
1 Tablespoon Worcestershire sauce
1 Tablespoon soy sauce
1 can (14.5oz) chicken broth
2 cups frozen vegetable medley
Directions
1. For the Healthier Mashed Potatoes: Wash and chop potatoes into 2"³ pieces, then steam in a steamer basket fitted into a large pot for 5 minutes.

2. Chop cauliflower into roughly the same sized pieces. Add on top of the potatoes and cook for an additional 10 minutes, or until potatoes and cauliflower are very tender. Pour into a large food processor fitted with a whipping blade, or a large bowl if using a handheld mixer.

2. Melt butter and warm milk in a saucepan or in the microwave, and add to the potatoes and cauliflower. Add salt & pepper to taste, then process until very smooth.

3. For the Shepherd"™s Pie filling: Pre-heat oven to 400 degrees. Brown ground beef, onions, garlic, salt, and pepper in a large skillet over medium-high heat. Drain, then return to the skillet. Sprinkle in flour, stir well and cook for 1 minute.

4. Add tomato paste, worcestershire sauce, soy sauce and chicken broth to the skillet. Bring to a boil, then lower heat and simmer for 5-6 minutes, or until sauce is thick. Add frozen vegetables and more salt and pepper, to taste.

5. Pour mixture into a large, oven-proof casserole dish. Top with healthier mashed potatoes and dot the top with remaining butter, salt, and pepper.

6. Place casserole dish on a foil-lined sheet pan (in case the sauce overflows) and bake for 20-30 minutes, or until top is golden brown.

Recipes by Course
Recipes by Main Ingredient
Recipes by Cuisine
Recipes by Preparation
Recipes by Occasion
Recipes by Dietary