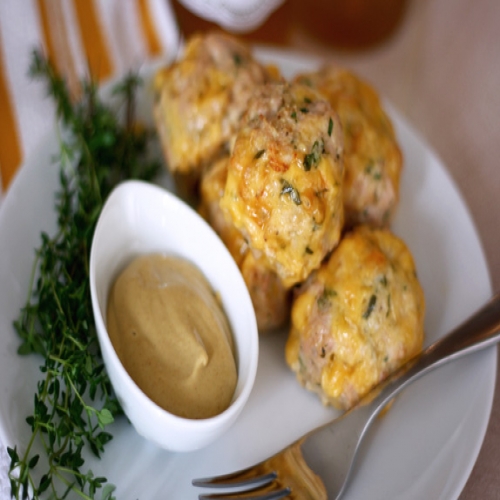 Prep Time:
Cooking Time:
Serves:
Herbed Turkey Cheddar Meatballs with Dijon
Category: Dinner Party, Healthy Recipes, Meat
Ingredients List
1 lb ground white turkey meat
1 egg
2 tbsp plain dried breadcrumbs
1 small sprig of rosemary, leaves stripped and minced
1 tsp tightly packed minced thyme leaves
1 tbsp minced flat leaf parsley
2 cloves of garlic, peeled and minced
1 tbsp dijon mustard
2 tbsp extra virgin olive oil
1/2 tsp of sea or kosher salt
10 grinds of freshly ground black pepper
3-3.5oz sharp cheddar cheese, finely cubed (I cut off the end of a large block of cheese, then diced)
OPTIONAL: extra cheddar slices, 1"³x1"³ pieces, thinly sliced; dijon mustard for serving
Directions
1. Preheat your oven to 350º. In a large bowl, combine all the ingredients except for the extra thin slices of cheddar, if using. Mix well with your hands until all the ingredients are well combined and incorporated.

2. Grab a baking sheet and line with aluminum foil (this will make for easy clean up!). With your hands, begin shaping meatballs by rolling the meat mixture together into a ball shape. You want the meatballs to be about one and a half times the size of a golf ball, but if you want them bigger or smaller for your party, go for it! There"™s no right or wrong here "" you mostly just want to ensure the meatballs are all the same size. Place the balls on the lined baking sheet. If you"™re making ones that are a little bigger than a golf ball, you should have about 12 total.

3. If you"™re using the cheddar, top each ball with a piece of cheddar. This will create a ridiculously good cheesy crust over the meatballs! If you"™re planning on bringing these to a tailgate, bake without the cheese, then add it on once you"™re at your destination and finish cooking there (you could set them on a tray over a grill, or in a small portable oven).

4. Bake in the oven for 30-35 minutes, until the cheese is golden brown and melted. Serve with a side of dijon mustard "" and, if you want to send things really over the top, some warm applesauce as well. Hello, fall!

5. I served mine as a game day snack over the weekend, alongside Stella"™s Cidre, and both Joe and I were in heaven!
Recipes by Course
Recipes by Main Ingredient
Recipes by Cuisine
Recipes by Preparation
Recipes by Occasion
Recipes by Dietary