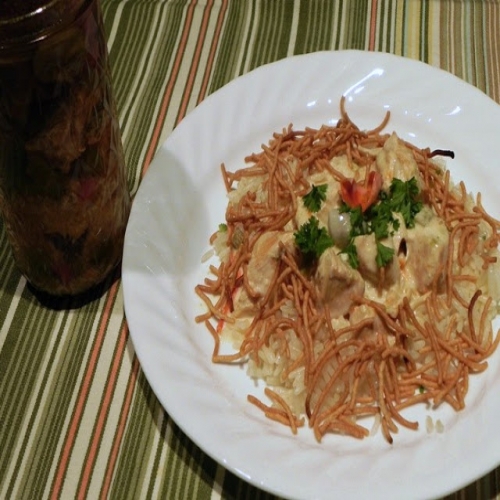 Prep Time:
Cooking Time:
Serves:
Home Canned Chicken a La King
Category: Dinner Party, Healthy Recipes, Main Dish, Chicken
Ingredients List
For Poached Chicken
6 pounds Chicken Breast halves -- (about 3 pounds cooked meat)
2 stalks Celery "" cut in 8 pieces
1 Whole Onions -- quartered
1 teaspoon Garlic -- minced
4 sprigs Fresh Thyme -- optional
6 Dried Sage Leaves -- crumbled-- optional
4 tablespoons Dried Celery-- optional
For Canned Chicken a La King
6-8 cups Chicken Broth
4 tablespoons Sherry -- optional
4 tablespoons Lea and Perrins Marinade for Chicken -- optional
2 tablespoons Chicken Base -- optional
2 cups Fresh Mushrooms -- sliced
1 cup Pimiento -- or red pepper
½ cup Green Pepper -- chopped
Directions
1. Cut large chicken breast halves in half lengthwise. Add to an 8 quart stockpot with the vegetables and herbs. Bring chicken breasts to a boil. Cover, remove from heat, and set aside 25 minutes. Cube meat. Strain broth and reserve 6-8 cups. Discard vegetables and herbs.
2. Combine broth, sherry, marinade, and chicken base with broth. Keep warm.
3. Add chicken, mushrooms, peppers and pimiento to reserved broth. Simmer 5 minutes. (If desired, put mushrooms in a glass measuring cup and cover with hot broth, and put the peppers in a glass measuring cup and cover with hot broth, let both stand a few minutes. Then layer in jars, 4 oz. chicken per 12 ounce jar or 5 1/2 ounce per pint, then divide peppers between jars and top each jar with mushrooms. Ladle on broth, keeping 1" headspace. Each 12 ounce jar uses about 1/2 cup broth.)
4. Pack into hot jars, leaving 1 inch headspace. Remove air bubbles. Adjust prepared lids and rings. Process in pressure canner at 10 pounds pressure for 75 minutes for pints or 12 ounce jars, at 1000"™ altitude.

Recipes by Course
Recipes by Main Ingredient
Recipes by Cuisine
Recipes by Preparation
Recipes by Occasion
Recipes by Dietary