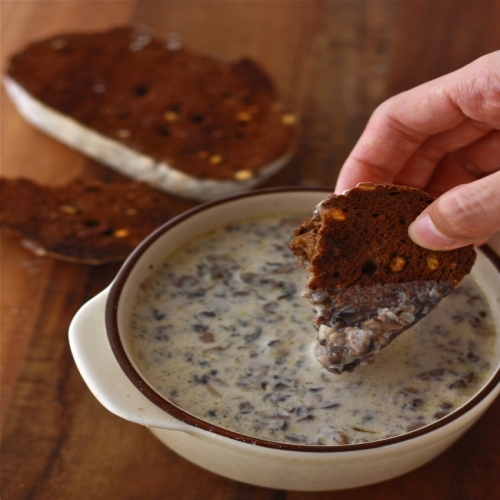 Prep Time:
Cooking Time:
Serves:
Category: Healthy Recipes, Soups, Mashrooms
Ingredients List
2 cups fresh mushrooms - cleaned and chopped finely (I used a mix of Swiss brown and white button)
1 tbsp. olive oil
3-4 cloves garlic - chopped
1 tbsp. butter
½ tbsp. chopped fresh thyme or 1/2 teaspoon of Season with Spice's Moroccan thyme
1 - 2 of Season with Spice's Turkish bay leaves
2 tsp. Worcestershire sauce
1 cup chicken or vegetable stock
1 tbsp. flour dissolved in 1 tbsp. water
Salt to taste
½ cup heavy cream
½ cup milk (skim milk is fine)
Dash of Season with Spice's ground Indonesian nutmeg
Freshly ground Tellicherry black pepper to taste
Fresh parsley or thyme for garnish
Directions
1. Heat olive oil in a sauce pan. Add butter and lightly sauté garlic on medium heat.

2. Add in mushrooms, thyme, bay leaf and Worcestershire sauce. Cook over medium
heat for 5 minutes, or until the moisture from the mushrooms disappears.

3. Add in chicken broth. Stir occasionally until broth boils, then reduce heat and simmer for 10 minutes.

4. Add diluted flour in, and stir constantly (while simmering) until the mixture thickens. Season with salt and nutmeg. Taste and adjust seasoning.

5. Finally, add milk and heavy cream, and bring to a simmer. Turn heat off.

6. Serve hot in your soup bowl. Add freshly ground black pepper. Garnish with fresh parsley or thyme if you have them on hand. And warm up this holiday season!
___________________________________________________________________________________________________
Cooking Tips:
1. This recipe serves us as a good basic comfort soup, so you can always modify easily according to your preference. Feel free to increase the amount of mushrooms for a richer mushroom flavor. You can also swirl in a dash of sherry or truffle oil or wine or some caramelized sweet onions to create another depth to the soup.

2. You can thicken the soup by adding in another tablespoon of flour or cut down on the broth, for use in pasta or your Christmas casserole dishes.
Recipes by Course
Recipes by Main Ingredient
Recipes by Cuisine
Recipes by Preparation
Recipes by Occasion
Recipes by Dietary