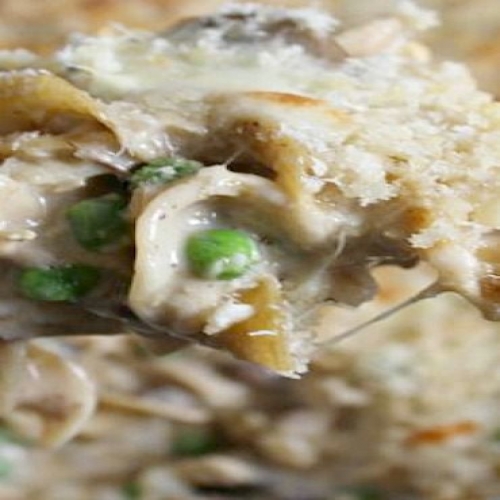 Prep Time:
Cooking Time:
Serves:
Homemade Tuna Noodle Casserole
Category: Holiday, Peppers, Mashrooms
Ingredients List
2 5 ounce cans or pouches of your favorite flaked tuna packed in water (I used Chicken of the Sea)
8 ounces of whole wheat egg noodles
1 8 ounce package of baby bella mushrooms
1 onion, finely diced
1 clove of garlic, minced
4 tablespoons of flour
3 1/2 cups of lowfat milk, divided
1/4 teaspoon of freshly cracked black pepper
1/4 teaspoon of smoked paprika
1/2 teaspoon of kosher salt
1/8 teaspoon of freshly grated nutmeg, optional
2 teaspoons of spicy brown mustard
Zest of 1/2 a lemon
3/4 cup of Parmesan cheese, divided
1 cup of frozen peas, thawed
1/2 cup of panko bread crumbs
1/2 cup of smoked mozzarella cheese, grated
Directions
1.Drain the tuna and set aside.
2.Bring a large pot of water to a boil. Add a bit of salt to it and then boil the noodles for 6 minutes or so. Drain and set aside.
3.Preheat the broiler.
4.In a large ovenproof skillet, add one tablespoon of olive oil and tumble in the mushrooms. Don't crowd the mushrooms - you want them to brown, not steam. Saute for about 5 minutes or so until nicely browned.
5.Add the onions and saute until soft and slightly translucent. Add the garlic and saute for a minute more.
6.Dust the mushroom and onion mixture with some of the flour. Cook for a minute or so and then, using a wooden spoon, add 1/2 cup of milk and deglaze the pan, scraping up anything from the bottom.
7.Using a whisk, whisk in the remaining milk until smooth.
8.Add the pepper, smoked paprika, salt, nutmeg (if using) and mustard until everything is mixed throughout.
9.Add the tuna, lemon and 1/2 cup of the Parmesan cheese.
10.Bring to a slight simmer and then add the noodles.
11.Mix well until the noodles are coated throughout and tumble in the peas.
12.Mix again and remove from the heat.
13.Cover the tuna noodle mixture with some of the grated smoked mozzarella, followed by a bit of the panko, and then the remaining Parmesan. Drizzle lightly with olive oil to get it somewhat toasty and put under the broiler for 3 - 5 minutes, until the top is crusty brown, bubbly and gorgeous.
14.Enjoy!
Recipes by Course
Recipes by Main Ingredient
Recipes by Cuisine
Recipes by Preparation
Recipes by Occasion
Recipes by Dietary