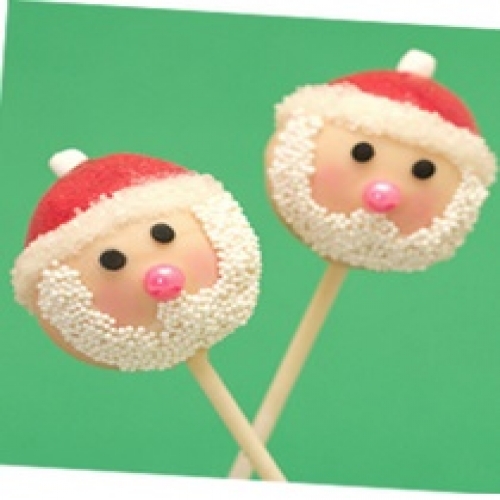 Prep Time:
Cooking Time:
Serves:
Ingredients List
- A box cake mix and ingredients to make the cake
- A can of frosting
- Candy melts
- Lollipop sticks
- A styrofoam block or cake pop stand
Directions
1. Follow the directions on a box of cake mix with one exception: use only half the amount of oil.

2. Let the baked cake cool completely. Then, crumble the cake into fine crumbs using your hands or a food processor.

3. Add a small amount of frosting to your cake crumbs and thoroughly combine using your hands. Continue to add small amounts of frosting until your crumb mixture becomes the consistency of clay.

4. Roll the cake mixture into balls about 1.25"³ wide.

5. Set your cake balls onto a parchment lined baking sheet or plate and put them in the freezer or refrigerator until chilled.

6. Microwave your candy melts in a bowl on low power for 30-seconds at a time. Stop and stir after each 30-second interval then repeat until the coating is completely melted.

7. Dip the end of a lollipop stick into the melted coating and then into a cake ball, gently pushing until the stick is about half way through the cake ball. Turn your cake pop upright and set it in your styrofoam block or cake pop stand.

8. Set the cake pops in the fridge to chill for dipping.

9. Dip each chilled cake pop straight down into the melted coating until the cake ball is completely covered and sealed. Remove the cake pop from the melted coating by pulling it straight up. Then, turn the cake pop at an angle and gently tap off any excess coating. Turn the cake pop upright.

10. Set your cake pops in your styrofoam block or cake pop stand until the coating has hardened. Or while the coating is still wet use sprinkles, candies, or sugars to decorate your cake pops.
Recipes by Course
Recipes by Main Ingredient
Recipes by Cuisine
Recipes by Preparation
Recipes by Occasion
Recipes by Dietary