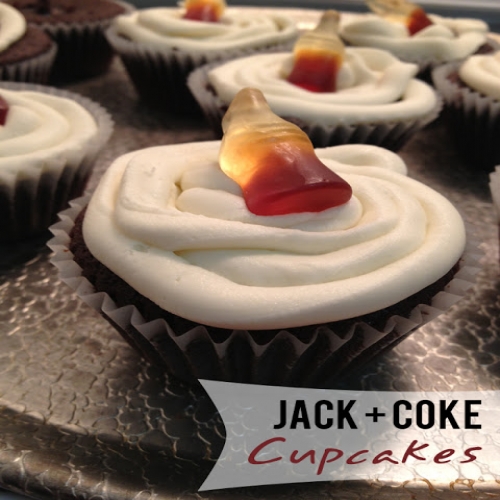 Prep Time:
Cooking Time:
Serves:

12 cupcakes
Jack + Coke Cupcakes
Recipe Submitted by

Rosemary

on

11/21/2014
Category: Holiday, Kids, Cakes
Ingredients List
Cupcakes:
1/2 cup Coke (don't use Diet or Coke Zero! You need the sugar that's in the original.)
1 stick unsalted butter
1/2 cup unsweetened cocoa powder
1 cup flour
1 cup sugar
3/4 teaspoon baking soda
1/2 teaspoon salt
1 large egg (room temperature)
1/3 cup sour cream (room temperature)
Ganache Filling:
1/2 cup semi-sweet chocolate chips
1/3 cup heavy cream
1 tablespoon butter (room temperature)
1 teaspoon Jack Daniels whiskey
Frosting:
3 cups confections sugar
3/4 stick unsalted butter (room temperature)
3 tablespoons Jack Daniels whiskey
12 gummy cola bottles (to make the cupcakes adorable)
Directions
Cupcake Prep:
1) Prep: Preheat oven to 350 degrees, and line 12 cupcake cups with aluminum liners (or use silicon cupcake holders).

2) Bring Coke and 1 stick butter to a simmer in medium saucepan over medium heat.

3) Add cocoa powder and whisk until mixture is smooth - allow to cool for 15 minutes or so.

4) Whisk together flour, baking soda, and salt in medium bowl. Put that bowl in a time out for now (read: "Set aside").

5) Using electric mixer, whisk eggs and sour cream in another large bowl to blend. Add in sugar and whisk to combine.

6) Pour in the Coke-chocolate mixture and beat just enough to combine.

7) Add flour mixture and beat briefly on slow speed. If needed, use a spatula to fold batter until thoroughly combined.

8) Pour batter into cupcake liners, filling them 3/4 of the way. Make sure not to overfill them as the batter will rise while cooking and you don't want it to spill over.

9) Bake for about 17 minutes, until a toothpick stuck in the center comes out clean. Let them cool completely.

Ganache Prep:
1) Place the chocolate chips in a small heatproof bowl. In a small saucepan, heat the cream until it's simmering and then pour it over the chocolate in the heatproof bowl. Let it sit for one minute and then stir until smooth. Add the butter and whiskey and stir until combined.

2) Let the ganache cool enough that it won't give you trouble when you place it in a piping bag.

3) Cut the centers out of the cooled cupcakes - I used a small paring knife, but you could also use an apple corer or a cupcake plunger (if you're fancy schmancy and have one).

4) Put the ganache into a piping bag with a wide tip and fill the holes in each cupcake to the top.

Frosting Prep:
1) Whisk the butter in a large bowl with an electric mixer for a couple minutes. You want it to be light and fluffy.

2) Slowly add the powdered sugar, a few tablespoons at a time.
*Trust me - you don't want to pour it all in at once. For one, you'll make a gigantic mess because the sugar will explode all over your kitchen and make it appear as though a blizzard blasted through your window. Also, the frosting will be grainy and impossible to mix properly.

3) Once you've used about half your powdered sugar, add in a bit of whiskey and then mix again. This will thin it out a bit, allowing you to continue mixing in the remaining sugar. Continue to add a bit of whiskey and mix until you've used all the sugar.
*As far as I'm concerned, using more than 3 tablespoons whiskey is NOT a problem. I accidentally dropped 5 tablespoons in the bowl... and a few tablespoons in my mouth... oops.

3) Pipe the frosting onto the cupcakes however you'd like. Top them with the little gummy cola bottles and voila - adorable, deliciously whiskey infused cupcakes!
Recipes by Course
Recipes by Main Ingredient
Recipes by Cuisine
Recipes by Preparation
Recipes by Occasion
Recipes by Dietary