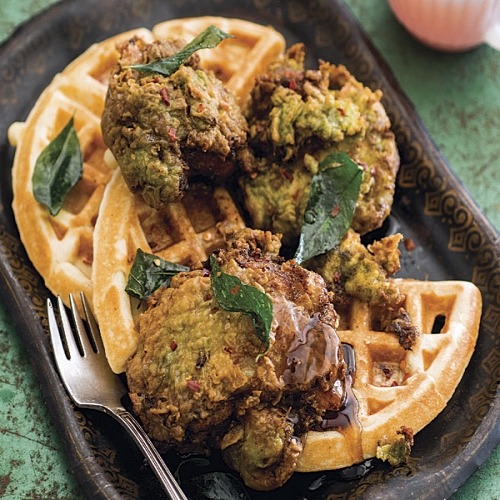 Prep Time:
Cooking Time:
Serves:

8 servings
Keralan Fried Chicken with Lowcountry Cardamom Waffles
Category: Healthy Recipes, Holiday, Breakfast, Chicken
Ingredients List
~~~~~~~ For the spicy maple syrup ~~~~~~~
2 tsp. whole cumin seeds, coarsely ground
2 tsp. whole coriander seeds, coarsely ground
1 tsp. crushed red pepper flakes
2 cups maple syrup
~~~~~~~ For the chicken and marinade ~~~~~~~
2 cups buttermilk
10 garlic cloves
1 2-inch piece fresh ginger, peeled
6 whole serrano (or 3 large jalapeño) peppers, seeded if desired
1 bunch of fresh cilantro
1 bunch of fresh mint
2 Tbs. kosher salt
8 boneless, skin-on chicken thighs (about 3 lb.)
~~~~~~~ For the waffles ~~~~~~~
1-1/2 cups all-purpose flour
1/2 cup rice flour
1/4 cup unsweetened malt powder
2 Tbs. packed light brown sugar
2 tsp. baking powder
2 tsp. baking soda
1 tsp. ground cardamom
1 tsp. kosher salt
2 large eggs
2-1/2 cups buttermilk
6 Tbs. unsalted butter, melted and cooled, plus more for greasing the waffle iron
1/2 cup cooked basmati or white rice
~~~~~~~ For frying and serving the chicken ~~~~~~~
Vegetable oil, for frying
4 cups all-purpose flour
2 Tbs. coconut oil, melted
2 stems fresh curry leaves
Directions
~~~~ Make the syrup ~~~~

Toast the cumin, coriander, and red pepper flakes in a dry, hot medium skillet until fragrant, 1 to 2 minutes. Whisk the toasted spices into the maple syrup and let the syrup infuse at room temperature for 24 hours.

~~~~ Marinate the chicken ~~~~

In a blender, purée the buttermilk, garlic, ginger, peppers, cilantro, mint, and salt until smooth. Place the chicken in a large glass dish or bowl, pour the buttermilk purée over the chicken, toss to coat, and refrigerate for 24 hours.

~~~~ Make the waffles ~~~~

In a large bowl, whisk together the flour, rice flour, malt powder, sugar, baking powder, baking soda, cardamom, and salt. In a separate bowl, whisk together the eggs, then add the buttermilk and melted butter and whisk again.

Slowly whisk the wet mixture into the dry ingredients, then add the cooked rice, whisking just until combined. Cover and let the batter rest for about 1 hour at room temperature.

Heat a waffle iron and brush with melted butter. For each waffle, ladle 1/2 cup batter into the waffle iron and cook until crisp and golden, 4 to 5 minutes.

~~~~ Fry the chicken ~~~~

Fill a large (12-inch) cast-iron skillet with 1/3 inch oil and gently heat to 300°F. Set a wire rack on top of a rimmed baking sheet and set aside. While the oil is heating, remove the chicken from the buttermilk purée, gently shake off excess, and dredge each piece in flour. Place the chicken in the skillet, skin side down; the oil should come halfway up the pan. Cook the chicken until it turns golden brown, 10 to 12 minutes per side. Drain the chicken on the rack and drizzle with the melted coconut oil. While the chicken is draining, crisp the curry leaves by frying in the oil until crisp, 10 to 15 seconds.

Serve the chicken on top of the waffles and drizzle with the spiced syrup. Garnish with the fried curry leaves.
Recipes by Course
Recipes by Main Ingredient
Recipes by Cuisine
Recipes by Preparation
Recipes by Occasion
Recipes by Dietary