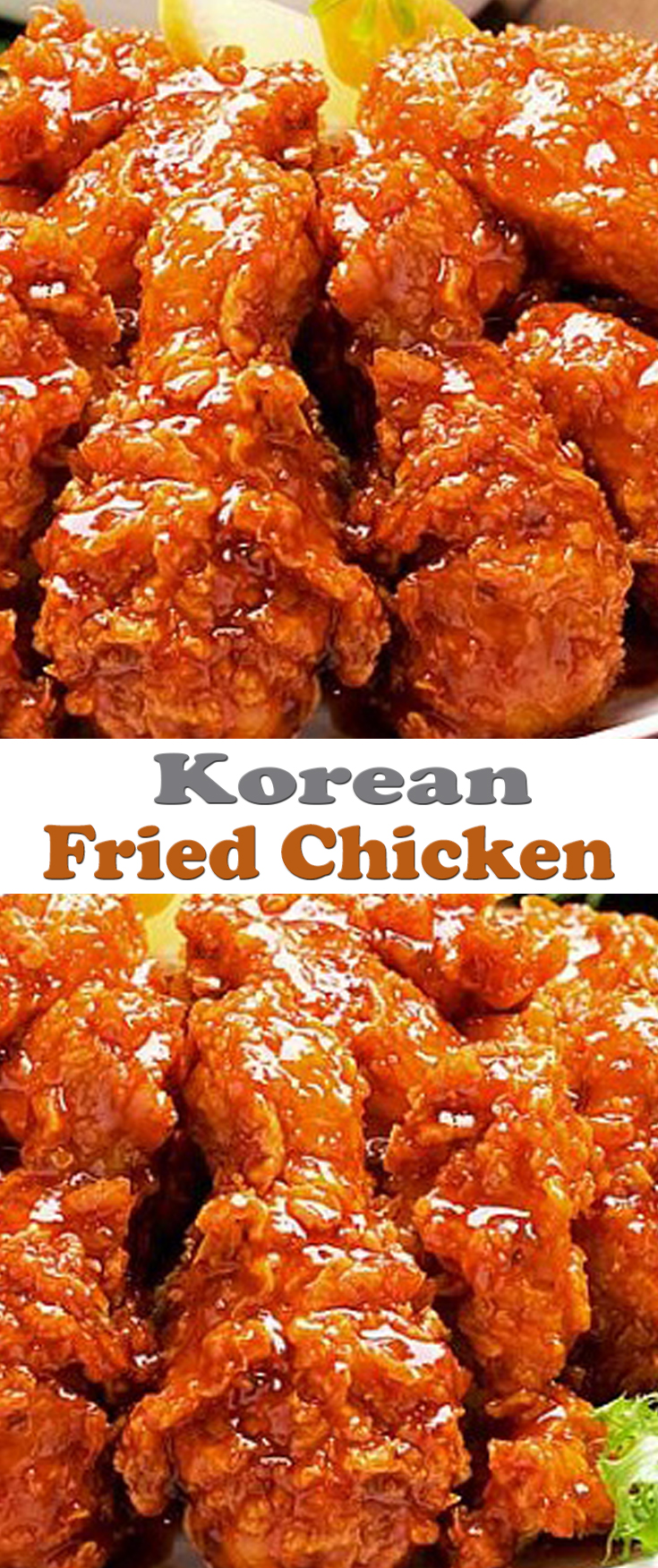 Prep Time:

15 mins

Cooking Time:

15 mins

Serves:

6
Korean Fried Chicken Recipe
Recipe Submitted by

maryjosh

on

01/08/2018
Ingredients List
For the Fried Chicken Recipe
4 pound whole chicken wings and drumsticks (about 12 pieces)
1/2 cup salt + 1 quart warm water
1 1/4 cup corn starch, divided
1 tablespoon baking powder, divided
3/4 cup all purpose flour
12 ounce light beer (or club soda)
2 quarts fry oil (peanut, canola, grape seed)
For the Korean Dunking Sauce
1/2 cup gochugang sauce
1/4 cup low sodium soy sauce
1/4 cup rice vinegar
1/4 cup brown sugar
3 tablespoons sesame oil
5 garlic cloves, smashed
1 tablespoons fresh grated ginger
1-2 tablespoons sriracha (optional for extra heat)
Directions
Place the salt and warm water in a large bowl and swirl to dissolve the salt. Then add the chicken pieces to the brine. Cover and refrigerate for 4 hours (or up to 12 hours.) Take the chicken out of the brine and dry with paper towels. Set out to allow the skin to continue drying.
Pour the oil into a large heavy-bottomed stock pot and set over medium heat. Attach a deep fry thermometer if you have one. Mix 3/4 cup of cornstarch and 2 teaspoons of baking powder in a bowl. Move the chicken to the bowl and toss to coat well.
Then place the remaining 1/2 cup of cornstarch, 1 teaspoon baking powder, and 3/4 cup of flour in a separate bowl. Whisk in the beer to create the tempera batter.
Turn the oven on warm (175-200 degrees F) and set out an oven-safe plate lined with paper towels. Check the temperature of the fry oil. It should be at 350 degrees F. Drop a little batter into the oil to check. If the batter turns brown right away the oil is too hot. Turn off the heat and wait for it to cool, before continuing. One piece at a time, tap the excess cornstarch off the chicken and dunk it in the tempura batter. Dunk a couple times to make sure there are no air pockets. Shake the chicken a little to allow the excess batter to drip back into the bowl then slowly swirl the chicken as you place it in the oil. Continue… frying 4-6 pieces at a time, until golden brown and crispy. Flip the chicken with tongs as needed and cover with a splatter screen if you have one. The wings should be golden and cooked through around 10 minutes, and the drumsticks will take between 12-15 minutes. Check the interior temperature with a meat thermometer – it should be 165 degrees F. Using the tongs, move the chicken to the plate and place in the oven while you repeat with the remaining chicken. This will take 2-3 batches, depending on the width of your pot.
While the chicken is frying, place the first seven ingredients for the Korean dunking sauce in a medium sauce pot. Set over medium heat, stir, and bring to a boil. Once the sauce reaches a boil, turn the heat on low and let it simmer for 2 minutes. Then remove from heat. Taste for spice. If you want your chicken to be extra spicy stir in sriracha to taste.
Once all the chicken is fried, and you are ready to eat, dunk each piece of chicken in the sauce, one at a time to coat well. Serve immediately.
Recipes by Course
Recipes by Main Ingredient
Recipes by Cuisine
Recipes by Preparation
Recipes by Occasion
Recipes by Dietary