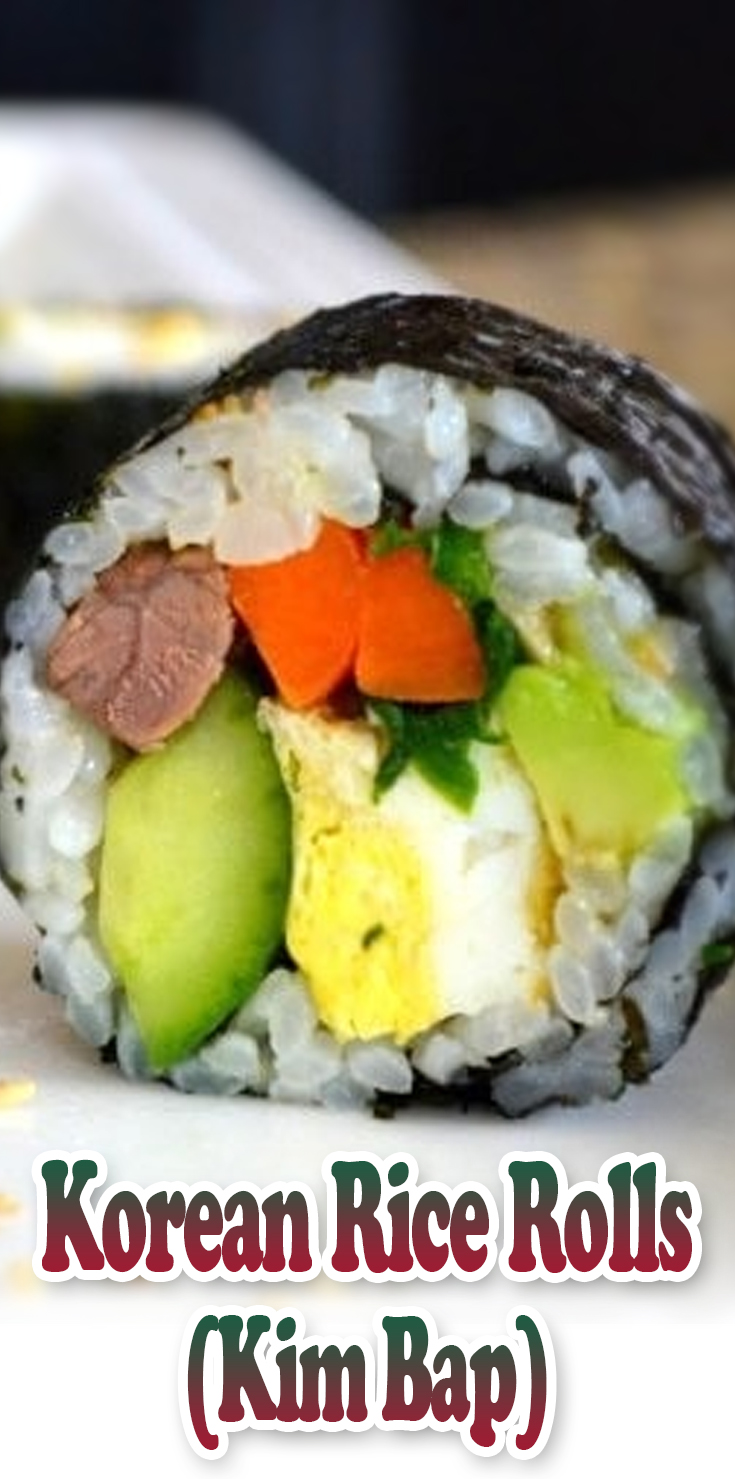 Prep Time:

60 mins

Cooking Time:

30 mins

Serves:

6
Korean Rice Rolls (Kim Bap)
Recipe Submitted by

maryjosh

on

01/16/2020
Ingredients List
1 oz package of seaweed (nori)
2 cups white sushi rice
14 oz package mini cucumbers
3 tbsp rice vinegar
2 cups baby spinach
4 medium carrots
5 extra large eggs lightly beaten
1 ripe avocado
1 tbsp sesame oil
1 tbsp sesame seeds
olive oil for sauteing
For the bulgogi style beef:
1 lb top sirloin thinly sliced
1/4 cup chopped scallions green part only
3 cloves garlic minced
2 tbsp red wine
2 tbsp soy sauce
1 tsp sesame oil
1 tsp sesame seeds
1/3 of a kiwi chopped
Directions
Make the bulgogi beef by marinating the top sirloin with the scallions, garlic, red wine, soy sauce, sesame oil, sesame seeds, and kiwi. The reason we add the kiwi is to tenderize the meat. This is a little trick that my mom uses for all her red meat. Let it marinate in the fridge for 2 hours, but no longer, because the kiwi will break down the meat too much.
On to the rice. I have a ricer cooker, so I cooked the rice in there according to the rice cooker's directions. If you don't have one, you can also cook the rice in a saucepan, just cook it according to the directions on the rice package. Let the rice cook while we work on the other ingredients, and we'll come back to it later.
Cucumber time. Quarter them up and scrape the seeds out with a knife. Soak the cucumbers in the rice vinegar, and sprinkle them generously with salt on both sides. We are not only seasoning the cucumbers and drawing the moisture out, but we will use this liquid to season the rice later on.
Blanch the spinach in salted boiling water for 15-30 seconds or so. Drain, and reserve. Spinach is done.
Peel and quarter up the carrots, and saute them over medium high heat in 2 tbsp of olive oil and a sprinkling of salt until they are tender but still have some crunch, about 5 minutes. Remove the carrots, and cook the marinated beef in the same pan, being careful not to overcook the meat.
In a nonstick pan, add 1 tbsp of olive oil, and cook the eggs until it firms up into a big egg pancake. Remove the egg pancake from the pan, and slice it vertically into long strips.
Lastly, the avocado. Just cut it up into long strips and set aside.
Pour the juices from the cucumber into the rice, and season the rice with 1 tbsp sesame oil and salt, to taste. When you have all your veggies and beef ready to go, it's time to make the kim bap! There are special bamboo mats that are made for rolling up sushi and kim bap. They are cheap (this one is $2.99 and free shipping), and easy to find. Lay your seaweed out onto the mat, and spread your rice out evenly. Make sure not to handle the rice too much or it will get gluey.
Smooth over the top of the rice with a spatula, with a gentle hand. Lay out all of your ingredients onto the rice, using 2 layers of carrots, and 1 for everything else. Make sure to roll it up as tightly as you can, then slice with a super sharp serrated knife.
If you want to make inside out kim bap, after you've smoothed out the rice, flip it over, and put all the ingredients on the seaweed, then roll it up and slice.
Recipes by Course
Recipes by Main Ingredient
Recipes by Cuisine
Recipes by Preparation
Recipes by Occasion
Recipes by Dietary