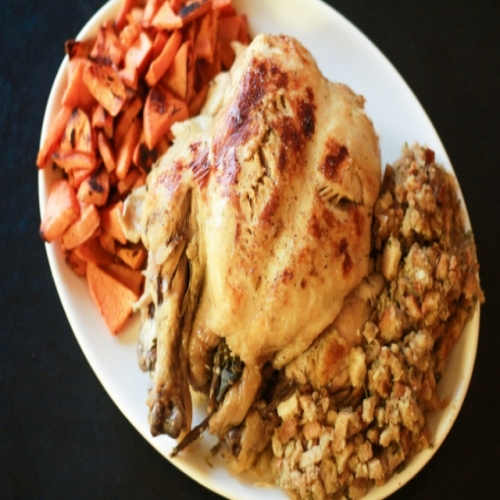 Prep Time:
Cooking Time:
Serves:

4 Servings
Lemon and Honey Crock Pot Chicken
Category: Chicken, Main Dish
Ingredients List
4 pound whole chicken, patted dry and giblets removed
3 sprigs rosemary
4 fresh sage leaves
4 sprigs of fresh thyme
1 lemon, quartered
1 yellow onion, sliced thin
1 cup carrots -- I used baby, but can be anything really
3 tablespoons butter, room temperature
1/2 tablespoon whole grain mustard
1 teaspoon salt
1 teaspoon pepper
1 teaspoon granulated garlic
2 garlic cloves, minced
2 tablespoons honey
Directions
First, put your onions and carrots in a layer on the bottom of the crock pot. Put two of the sprigs of thyme with the onion and carrot layer. Next make your compound butter. Chop 1 sprig of rosemary, and 2 sage leaves. The butter should be room temperature and soft, but not melted. Add your herbs, salt, pepper, granulated garlic, minced garlic, mustard, honey and mix until well incorporated and set aside. Pat your chicken dry, and make sure the giblets are removed. Lay the chicken on top of the veggies, and squeeze with lemon from all 4 quarters of the lemon. Stuff the lemon quarters inside the chicken's cavity. Then stuff the remaining whole herbs into the cavity as well. Finally, spread the compound butter all atop the chicken, massaging it into the crevices. Sorry to everyone sicked out by raw meat! Cover with lid and cook for about 6-8 hours on low heat.

When it is done, it should be falling off the bone. Preheat your oven to broil, and place your chicken in an oven safe pan. Season with a little salt and pepper on top. You will broil the chicken for about 2 minutes to get the skin to crisp. Watch it carefully so that it doesn't burn! Take it out and enjoy what will surely be the best chicken ever!

I served our's with some herbed stuffing and roasted sweet potatoes. Can you tell we are in a very Thanksgiving mood?
Recipes by Course
Recipes by Main Ingredient
Recipes by Cuisine
Recipes by Preparation
Recipes by Occasion
Recipes by Dietary