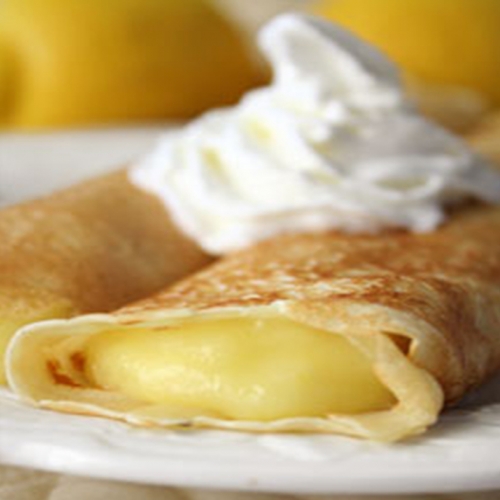 Prep Time:
Cooking Time:
Serves:
Ingredients List
1 cup all-purpose flour
1 1/2 cups milk
2 large eggs
2 tablespoons granulated sugar
1 tablespoon vegetable oil
1 pinch salt
##### Lemon Curd Filling #####
6 egg yolks
1 cup sugar
1/3 cup fresh lemon juice (about 4-5 lemons)
2 tbsps grated lemon zest
1/2 cup cold unsalted butter (1 stick butter), cut into 1/8-in slices
Directions
## Sift the flour into a medium bowl. Make a well in the center.

## In a small bowl, whisk together the milk, eggs, sugar, vegetable oil, and salt. Add to the flour and whip to a smooth batter. Refrigerate the batter for two hours.

## Heat a nine-inch crêpe pan on medium high heat. Brush with butter.

## Measure batter into the hot pan. Immediately tilt and rotate the pan so that the batter covers the bottom of the pan in a thin layer.

## Cook until bubbles appear and the bottom of the crêpe is a nice even, golden brown.

## Use a pallet knife or thin, sturdy spatula to turn the crêpe. Cook the second side only it is a blonde color, not as dark as the first side.

## Remove the crêpe to a sheet of parchment paper or waxed paper and repeat with the rest of the batter.

## Fill your crêpes, folding as desired. Serve with whipped cream.


For Lemon Curd:

## Add 1-inch of water to a medium saucepan and bring to a simmer over low heat. In a medium metal bowl whisk the egg yolks and sugar for about 2 minutes until smooth. Whisk in the lemon juice and zest until combined.

## Place the mixing bowl on top of saucepan (the bowl should be wide enough to fit on top of the saucepan, but shouldn't be touching the simmering water). Stir the mixture constantly with a rubber spatula, scraping the bottom and sides of the bowl as you stir, until it begins to thicken, and will coat the back of a spoon. This will take approximately 7 to 10 minutes. Remove from heat.

## Whisk in the butter, one slice at a time. Wait until each piece almost disappears before adding the next. Spoon into clean glass containers and allow to cool with a piece of plastic wrap laid on the surface to prevent a skin from forming.

## Refrigerate until needed. This lemon curd will keep for 2 to 3 weeks.
Recipes by Course
Recipes by Main Ingredient
Recipes by Cuisine
Recipes by Preparation
Recipes by Occasion
Recipes by Dietary