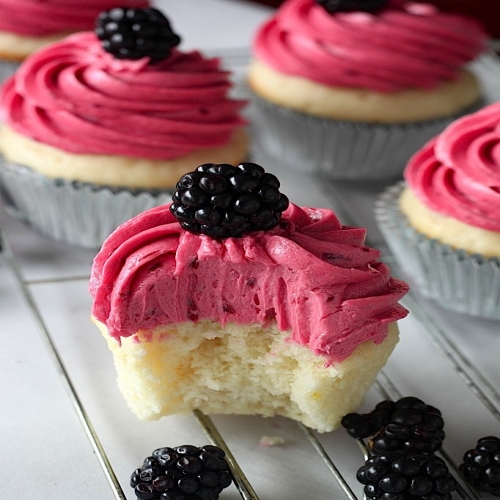 Prep Time:
Cooking Time:
Serves:
Lemon Cupcakes with Blackberry Buttercream
Category: Breakfast, Breads
Ingredients List
For the cupcakes:
1 3/4 cups all-purpose flour
1 1/2 teaspoons baking powder
1/4 teaspoon salt
1/2 cup sour cream (I used full fat)
1/2 cup milk (I used whole)
1 teaspoon vanilla extract
2 large egg whites, at room temperature
1 stick (4 ounces) unsalted butter, melted
1 cup granulated sugar
Zest of one lemon (about 2 teaspoons)
For the Blackberry Buttercream:
1 cup blackberries
2 tablespoons lemon juice
2 teaspoons granulated sugar
1 stick (4 ounces) unsalted butter, VERY soft
1/4 teaspoon salt
4 cups confectioners sugar
1 tablespoon heavy cream (more if needed)
Directions
1. Preheat oven to 350 degrees (F). Line a 12 mold muffin tin with paper liners; set aside.
2. In a medium bowl combine flour, baking powder, and salt; mix well to combine. Set aside.
3. In a large measuring cup or bowl combine sour cream, milk, vanilla, and egg whites; mix well to combine. Set aside.
4. In a small bowl combine sugar and lemon zest. Using your fingertips, rub the zest IN to the sugar, until fragrant and well combined.
5. In a large bowl or stand mixer fitted with the paddle attachment beat melted butter and sugar on medium speed until well combined; about 2 minutes. Add the lemon zest and beat for another minute on medium speed. Slowly add the flour mixture to the butter/sugar combination, beating until just combined. Add in sour cream/milk/egg combo and beat on low until *just combined. Over-mixing will result in a dryer/denser cake.
6. Divide the cupcake batter evenly into the 12 molds, then place the pan in the oven. Bake for 18-20 minutes, or until a toothpick inserted into the center of a cupcake comes out clean. Allow cupcakes to cool completely before topping with frosting.
7. For the blackberry buttercream:
8. Combine the blackberries, lemon juice, and sugar in a small saucepan. Bring to a simmer over medium heat, and stir constantly until blackberries have become soft enough to mash effortlessly. It will look like blackberry jam. Once the mixture can coat a spoon (you will have about 1/3 cup of blackberry puree) remove from heat. Place a fine-mesh strainer over a small bowl and push the puree though, leaving any seeds/large chunks behind. Allow mixture to cool completely before using.
9. When ready to make buttercream:
10. Place butter in a large bowl, or in the body of a stand mixer. With a handheld mixer, or with the whisk attachment on your stand mixer, beat butter on medium-high until completely smooth; about 1 minute. Add in the blackberry puree and beat until completely combined. Add in the confectioners sugar, one cup at a time, on low speed. Once all of the sugar has been added, add in the cream, then beat on high-speed for 1-2 minutes, or until light and fluffy. Ice cupcakes as desired.
11. *Cupcakes can be made up to 6 hours ahead of time, but be sure to store in the fridge and bring to room temperature 30 minutes before serving.
Recipes by Course
Recipes by Main Ingredient
Recipes by Cuisine
Recipes by Preparation
Recipes by Occasion
Recipes by Dietary