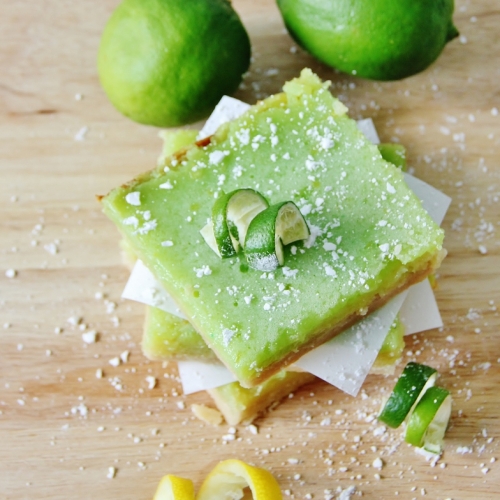 Prep Time:
Cooking Time:
Serves:
Ingredients List
2 cups all-purpose flour
1/2 cup powdered sugar
2 Tbsp. cornstarch
1/4 tsp. salt
3/4 cup butter, cut up
4 eggs, lightly beaten
1 1/2 cup granulated sugar
1/3 cup Half and Half
3 Tbsp. all-purpose flour
1 tsp. finely shredded lemon peel
1/3 cup lemon juice
1 tsp. finely shredded lime peel
1/3 cup lime juice
1 drop green food coloring
Directions
1. Preheat oven to 350 degrees.

Grease a 9"³ x 13"³ pan and line with parchment paper, pressing the paper on to the bottom and up the sides of the pan (this is such a wonderful step and makes the bars so pretty)!

Set aside.

Butter

2. To make crust, in a large bowl combine 2 cups of the flour, powdered sugar, cornstarch and salt.

Using a pastry blender, cut in butter until mixture resembles coarse crumbs. Press firmly into the bottom of prepared pan.

Place in oven and bake for 15 minutes.

Eggs

3. While the crust is baking, in a medium mixing bowl whisk together eggs, granulated sugar, half and half and 3 Tbsp. of flour.

Divide mixture evenly into two bowls.

Lemons-and-Limes

4. To one bowl add lemon peel and lemon juice.

In the other bowl add lime peel, lime juice and drop of green food coloring.

Pour lemon filling over hot crust and bake for 10 to 12 minutes or until it is set.

Next, carefully pour lime filling over lemon filling.

Bake 10 to 12 minutes more or until set.

Cool completely in a pan or on a wire rack.

Use paper to lift uncut bars out of pan. Cut into bars. Sift powdered sugar over bars.

Top with lemon and lime peel if desired.

Refrigerate to store.
Recipes by Course
Recipes by Main Ingredient
Recipes by Cuisine
Recipes by Preparation
Recipes by Occasion
Recipes by Dietary