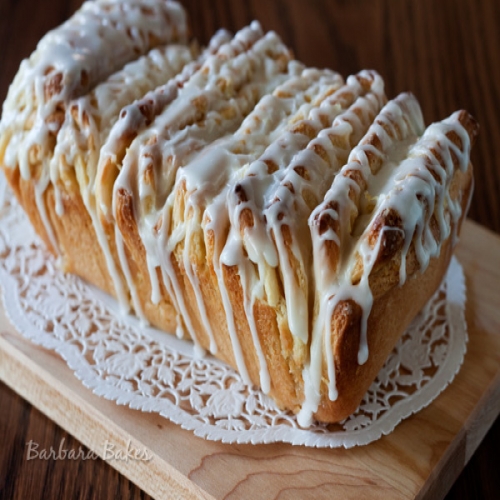 Prep Time:
Cooking Time:
Serves:
Category: Lunch/Snacks, Breakfast, Breads, Desserts
Ingredients List
~~~~~~ For Dough ~~~~~~
2 3/4 cups all-purpose flour
1/4 cup granulated sugar
2 1/4 teaspoons (1 package) Red Star Platinum instant yeast
1/2 teaspoon salt
1/2 cup milk
4 tablespoons unsalted butter
1 1/2 teaspoon pure vanilla extract
2 large eggs, room temperature
~~~~~~~~ For Lemon Sugar Filling ~~~~~~~~
1/2 cup granulated sugar
4 tablespoons finely grated lemon zest (4 lemons)
4 tablespoons unsalted butter, very soft
~~~~~ For Lemon Icing ~~~~~
1 cup powdered sugar
5 teaspoons fresh lemon juice
Directions
In the bowl of a stand mixer, using the paddle attachment, combine 2 cups flour, sugar, yeast, and salt.

In saucepan or microwave safe dish, heat milk and butter until warm (120° - 130°F; butter does not have to be completely melted).

Add liquids to flour mixture. Add vanilla. Blend at low speed until moistened. Beat in eggs one at a time. Beat 3 minutes at medium speed.

Switch to the dough hook and mix in the remaining flour a little at a time, to make a soft dough, adding more or less flour as needed. Knead the dough for 5 minutes. Place in greased bowl, turning to grease top. Cover; let rise in warm place about 15 minutes.

While the dough is resting, make the lemon sugar filling. Mix the sugar and lemon zest.

Preheat oven to 350º F. Grease a 9x5" loaf pan, and line with parchment or foil, leaving a 1-inch overhang on each long side; butter paper. (For easy removal of the bread from the pan.)

Punch down the dough. On a floured surface, roll the dough into a 20" x 12" rectangle. Spread the butter evenly over the dough with a rubber spatula or pastry brush.

Cut dough in to five strips, each about 12" by 4" with a pizza cutter.

Sprinkle 1 1/2 tablespoons of the lemon sugar over the first buttered rectangle. Top it with a second rectangle, sprinkling that one with 1 1/2 tablespoons of lemon sugar as well. Continue to top with rectangles and sprinkle, so you have a stack of five 12" by 4" rectangles, all buttered and topped with lemon sugar.

Cut the stack into 6 rectangles (each should be 4" by 2") Carefully transfer the rectangles of dough into the loaf pan, cut edges up, side by side. You might have some extra room around the edges but the bread will rise and expand during baking. Loosely cover the pan with plastic wrap and let the dough rise in a warm place until puffy, 30 to 50 minutes. When you gently press the dough with your finger, the indentation should stay.

Bake 30 to 35 minutes until the loaf is golden brown. Cover the top with foil if it's browning too quickly. Transfer to a wire rack and let cool in the pan for 10 to 15 minutes.

While bread is cooling, make the lemon icing. Whisk together powdered sugar and lemon juice until smooth.

Use the parchment paper to help remove the loaf from the pan. Flip the loaf over onto a cooling rack, remove the parchment paper, then flip onto another rack so that it"™s right side up.

Drizzle icing over bread. Serve warm or at room temperature.
Recipes by Course
Recipes by Main Ingredient
Recipes by Cuisine
Recipes by Preparation
Recipes by Occasion
Recipes by Dietary