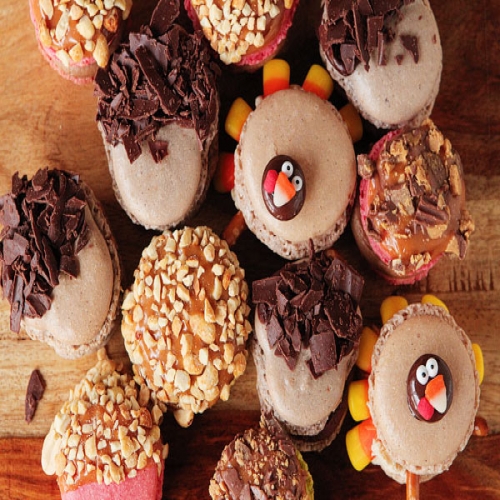 Prep Time:
Cooking Time:
Serves:
Category: Lunch/Snacks, Breakfast
Ingredients List
90 grams aged egg whites
110 grams almond flour
200 grams powdered sugar
1 vanilla bean
25 grams white granulated sugar
1 tsp cocoa powder or powdered food coloring (optional)
Directions
1. Up to 5 days before making macarons, separate the egg whites, cover loosely with a paper towel, and store in the refrigerator. The night before making macarons, set them out on the counter to come to room temperature.

2. The next morning, place almond flour, powdered sugar, and the contents of a vanilla bean into a food processor and process until fully combined. Move to a large bowl and whisk in one teaspoon of cocoa powder for chocolate macarons, or one teaspoon of powdered food coloring for colored macarons. Leave plain for vanilla macarons. Whisk to combine, then sift and set aside.

3. With a mixer, whisk the egg whites on medium-high speed until foamy. Add in granulated sugar and continue whisking until the the egg whites have stiff peaks. Add the egg whites to the flour and fold to incorporate until the mixture is just smooth, using no more than 50 strokes. Fit a pastry bag with a large round tip, and fill with macaron batter. Pipe approximately 1-inch circles onto a baking sheet lined parchment paper. Let the batter rest on the pan at least 30 minutes before baking, to form a strong skin to help keep the macarons from cracking in the oven.

4. Bake the macarons at 280 degrees F for 15-20 minutes directly in the middle of the oven. To test for doneness, gently touch the top of a macaron to make sure it"™s dry. Then gently try to lift the macaron from the parchment paper. If it comes away pretty easily, they"™re done. If it doesn"™t come up and the top breaks away, they need to cook longer. Keep checking on them every two minutes until the bottom is dry. Once removed from the oven, allow the macarons to rest on the pan for 10 minutes to finish cooking before trying to remove. Cool completely before frosting.


Recipes by Course
Recipes by Main Ingredient
Recipes by Cuisine
Recipes by Preparation
Recipes by Occasion
Recipes by Dietary