Side Pannel
Melt-in-Your-Mouth Brown Butter Pumpkin Coffee Cake with Pecan Gingersnap Cookie Streusel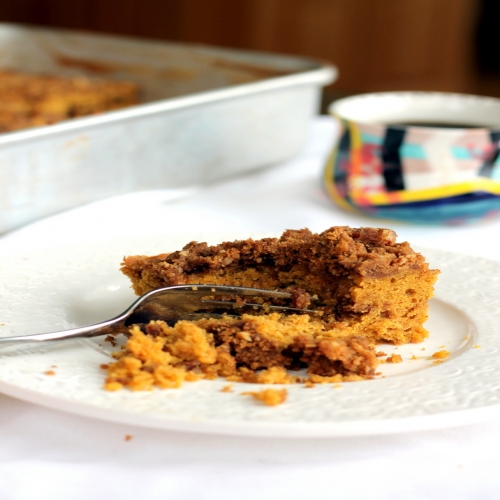 Prep Time:

10 minutes

Cooking Time:

40 minutes

Serves:
Melt-in-Your-Mouth Brown Butter Pumpkin Coffee Cake with Pecan Gingersnap Cookie Streusel
Category: Cakes, Breakfast, Snacks
Ingredients List
1 cup (2 sticks) unsalted butter
3 cups flour
3 teaspoons baking powder
1 1/4 cup dark brown sugar
1/2 teaspoon salt
3 1/2 teaspoons cinnamon
1/2 tespoon ginger
1/4 teaspoon nutmeg
1 cup almond milk (you can also use skim, 2% or whole)
2 eggs
1 egg yolk
1 tsp vanilla
1 cup canned pumpkin (not pumpkin puree)
3 tablespoons plain greek yogurt or sour cream
For topping:
2 cups gingersnap cookies
1/2 cup of flour
1/2 teaspoon cinnamon
2/3 cup brown sugar
1/2 cup (1 stick) cold unsalted butter, cut into chunks
pinch of salt
1 1/4 cup chopped pecans
Directions
1. Preheat oven to 375 degrees F. Grease a 9x13 baking pan.

To make the streusel:

2. In a blender or food processor, add the gingersnaps and pulse until they resemble fine crumbs; you should end up with about 3/4 cup of crumbs. In a large bowl, combine the flour, crumbs, brown sugar, cinnamon and salt. Add the cold butter pieces to the bowl and cut with a pastry cutter or rub together with your fingers until the mixture resembles a crumble texture. Stir in the pecans and set aside.

To make the batter:

3. Melt butter in a saucepan over medium heat. The butter will begin to foam. Make sure you whisk consistently during this process. After a couple of minutes, the butter will begin to brown on the bottom of the saucepan; continue to whisk and remove from heat as soon as the butter begins to brown and give off a nutty aroma. Remove from heat and immediately transfer the butter to a bowl to prevent burning. Set aside to cool for a few minutes.

4. In a medium bowl whisk together flour, brown sugar, baking powder, cinnamon, nutmeg, and ginger.

5. In a separate large bowl, whisk the milk, eggs, yolk, and vanilla together until combined. Whisk in the brown butter until combined. Fold in the pumpkin and yogurt. Gently stir in the flour mixture. The batter will be thick.

6. Spread half of the batter in the prepared pan. Generously sprinkle half of the streusel over the batter. Drop the remaining batter all over the streusel and gently spread it with a spatula. Sprinkle the remaining streusel on top. Bake about 35-45 minutes or until a toothpick inserted into the center of the cake comes out clean. Transfer the pan to a wire rack and cool for 10-15 minutes. Serve warm with a big cup of Joe. Enjoy!

Recipes by Course
Recipes by Main Ingredient
Recipes by Cuisine
Recipes by Preparation
Recipes by Occasion
Recipes by Dietary