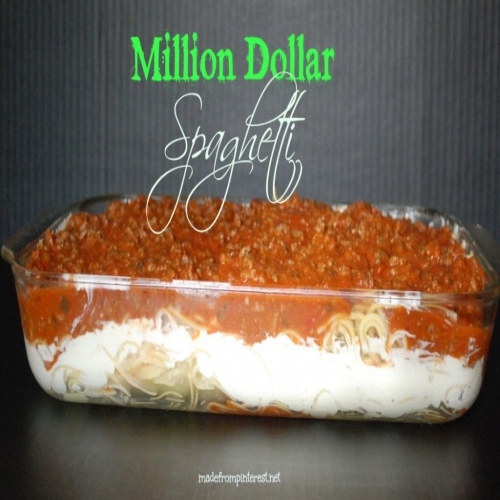 Prep Time:
Cooking Time:
Serves:
Category: Main Dish, Cheese, Beef
Ingredients List
*1 lb of ground beef
*1 jar of spaghetti sauce
*8 oz of cream cheese
*1/4 cup sour cream
*1/2 lb cottage cheese (equals 1 cup)
*1/2 cup butter (1 stick)
*1 pkg spaghetti 16 oz
*Grated cheddar cheese
Directions
Preheat your oven to 350°. Boil your spaghetti noodles until al dente (firm). Drain and set aside until ready to assemble.

Combine the cream cheese, sour cream and cottage cheese until well blended.

Brown your hamburger and when done, drain well. Combine the hamburger with your spaghetti sauce.

Ready for assembly?

1. Put a few slices of butter into a 9×13 pan then pour half of your spaghetti noodles on top.

2. Take your cream cheese mixture and pour on top of the noodles. Spread well over noodles.

Okay, minor confession here. If you look closely, you will not see any noodles underneath my cream cheese mixture. That"™s because I messed up and poured this in first before my noodles. AACK! Don"™t you hate when you do that?. Yeah, so I scooped it out, put my noodles in and then spread the cream cheese mixture on the noodles.

AGAIN.

Alright. Now we can proceed.

3. Pour the rest of the noodles on top of the cream cheese mixture. Put a few more slices of butter on top of the noodles. And no, this is not a Paula Deen recipe!

4. Pour your spaghetti and meat sauce on top of your noodles:

Now it is ready to put into the oven for 30 minutes. After 30 minutes, pour the desired amount of grated cheese on top and return to the oven for 15 minutes to allow cheese to melt.
Recipes by Course
Recipes by Main Ingredient
Recipes by Cuisine
Recipes by Preparation
Recipes by Occasion
Recipes by Dietary