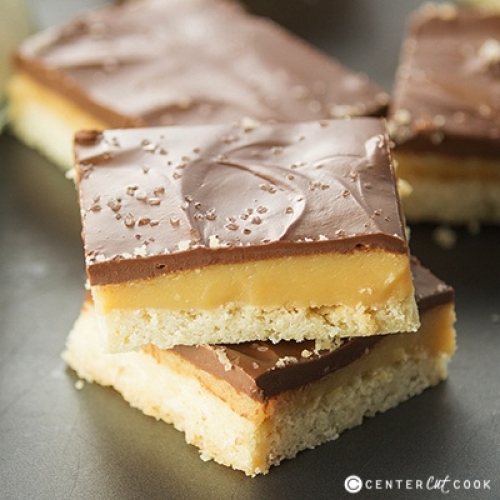 Prep Time:
Cooking Time:
Serves:
Category: Kids, Chocolate, Desserts
Ingredients List
1 stick butter, cut into pieces 1 cups all-purpose flour 1/3 cup granulated sugar 1/4 teaspoon table salt
8 tablespoons butter 1 "" 14 ounce can sweetened condensed milk (I use Eagle Brand) 4 tablespoons light corn syrup
12 ounces milk chocolate 1 tablespoon butter Sea salt
Directions
1. Pre-heat your oven to 350 degrees. Prepare an 8 x 8 inch pan (here"™s the one I use) by lining it with foil, making sure to drape the foil over the edges, then spraying the foil with nonstick cooking spray. The foil will make it easy for you to lift the bars right out of the pan. For the shortbread layer: With your food processor, combine flour, sugar and salt and pulse a few times to combine. Add in small pieces of butter and pulse until you"™re left with a crumbly mixture. Press this mixture into your prepare pan and bake for 20-22 minutes, or until the shortbread layer is a light golden color around the edges. Allow the crust to cool completely. For the caramel layer: In a large, deep microwave safe bowl (my favorite mixing bowls) melt 8 tablespoons butter.

2. This should take about 1 minute and 30 seconds. When the butter is melted, add the sweetened condensed milk and corn syrup. Whisk well until the butter is incorporated into the mixture. Microwave for about 6-8 minutes, making sure to stir the mixture every 30 seconds. At first it"™s going to seem like something went wrong.

3. Eventually the mixture starts to thicken and will change color to a light golden brown, that"™s when you know it"™s done. Pour the caramel layer over the shortbread layer and allow to to set and cool to room temperature. You can speed the process along by placing it in the fridge for about an hour. In a large microwave safe bowl, add in 12 ounces milk chocolate and 1 tablespoon butter. Microwave at 50% power for 1 minute, then stir, then continue microwaving in 20 second increments, stirring between each, until the chocolate is melted and smooth. Pour the chocolate over the cooled caramel layer, then sprinkle with sea salt and allow it to set for about 10 minutes, then place the barsi n the refrigerate to cool completely for about 30 minutes. Use the foil handles to lift the bars out of the pan. Cut into pieces and serve.


Recipes by Course
Recipes by Main Ingredient
Recipes by Cuisine
Recipes by Preparation
Recipes by Occasion
Recipes by Dietary