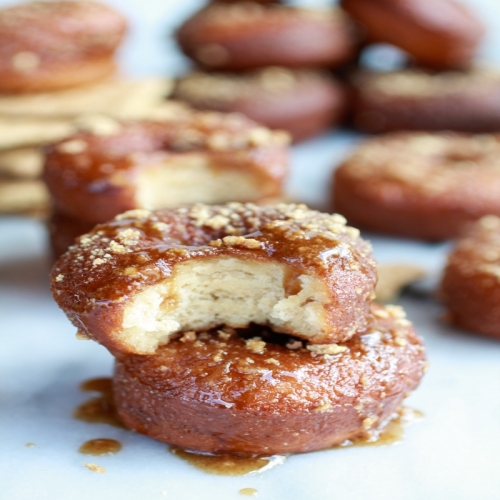 Prep Time:

5 minutes

Cooking Time:
Serves:

24 mini doughnuts
Mini Brown Sugar Glazed Graham Cracker Doughnuts
Category: Kids, Desserts
Ingredients List
1 1/8 cups milk, warm (if needed you can use regular milk)
1/4 cup sugar
2 1/4 teaspoons (one package) instant or active dry yeast
2 whole large eggs, beaten
1 1/4 stick unsalted butter, melted
1 sleeve (1 cup) graham cracker crumbs
3 1/2 cups all-purpose flour
1/4 teaspoon cinnamon
1/4 teaspoon salt
oil, for frying (I like using canola oil)
~~~~~ Brown Sugar Glaze ~~~~~
1/3 cup water
1/2 cup brown sugar
2 teaspoons vanilla
1/2 cup graham crackers, curmbs
Directions
1. In the bowl of your electric mixer (with the dough hook attached) add the sugar to the milk, stir to dissolve and add the yeast. Stir gently, then let sit for 10 minutes. Melt the butter in a separate bowl, add the beaten eggs, stirring constantly to make sure the butter is not too hot for the eggs. Add the egg/butter mixture to the yeast mixture. With the mixer on medium-low speed, allow the dough hook to stir this mixture for a couple of minutes, making sure it's thoroughly combined. With the mixer still going, add the salt, 1/4 teaspoon cinnamon, graham cracker crumbs, and flour in 1/2 cup increments until all the flour is gone. Stop the mixer, scrape the bowl down, then turn the mixer on the same speed again for five more minutes. After five minutes, stop the mixer and scrape the bottom of the bowl. Transfer the dough to a lightly oiled bowl and toss the dough to coat, then cover the bowl with plastic wrap and place straight in the fridge. Refrigerate dough for at least 8 hours, or overnight.

2. Remove bowl from fridge and turn out dough onto a lightly floured surface. Roll out to 1/4 to 1/3-inch thickness. Using a 1 1/2 to 3 inch cutter, cut as many rounds as you can, then roll out remaining dough and cut as much as you can. Place the doughnuts on a floured baking sheet and use a 1 inch cutter to cut out the the middle of the doughnuts. Cover with large towel and place in a warm place in your kitchen. Allow doughnuts to rise for one hour (mine were good to go after 50 minutes). Doughuts should be puffy and airy.

3. To make the brown sugar glaze. In a medium bowl mix the water, brown sugar and vanilla. Set aside.

4. Heat about 2-inches of oil in a large, heavy bottomed pot over medium heat until a deep-fry thermometer reads 375 degrees F. Line a large plate with paper towels.

5. Working in batches, fry the doughnuts, turning once, until they are golden brown, about 2 minutes. Transfer the doughnuts from the oil with a slotted spoon or skimmer to the prepared pan. Cool. Repeat with remaining dough, taking care the oil comes back to the correct temperature between each batch.

6. When all the doughnuts have been fried dip each in the brown sugar glaze and then sprinkle with the graham cracker crumbs. Eat!
Recipes by Course
Recipes by Main Ingredient
Recipes by Cuisine
Recipes by Preparation
Recipes by Occasion
Recipes by Dietary