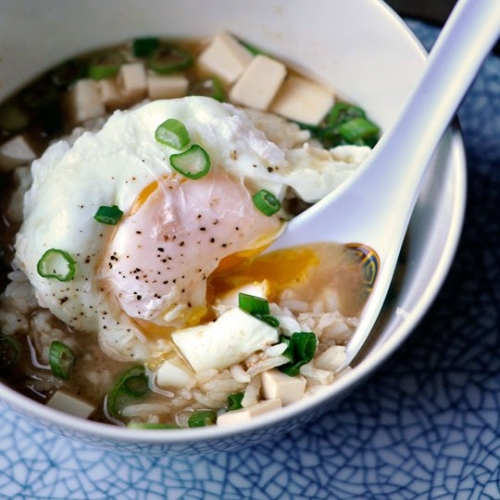 Prep Time:
Cooking Time:
Serves:

8 Servings
Miso Soup with Rice & Poached Egg
Recipe Submitted by

Kosher

on

05/06/2014
Category: Rice, Eggs, Soups
Ingredients List
>>>>>> Dashi <<<<<<<<
2 quarts water
One 3-inch square kombu (sea kelp)
3/4 cup bonito flakes
>>>>>> Miso Soup <<<<<<<<
2 quarts dashi
1/2 cup miso paste
One 12-ounce block silken tofu, cut into 1/4-inch cubes
1 small bunch scallions, green tops sliced thin
<<<<<<<< For each bowl of soup <<<<<<<<
1 cup cooked white rice (see how to how to cook brown rice)
1 large egg
Soy sauce
Chili garlic sauce
Directions
===> To make the dashi
Pour 2 quarts of water in a large saucepan. Have a separate 2-quart bowl ready to the side with a fine mesh strainer or piece of cheesecloth.

Place the kombu in the cold water. Turn the heat to high, and heat just to boiling. Turn off the heat and remove the kombu. Stir in the bonito flakes and steep for 5 minutes. Strain into the prepared bowl. Pour the strained liquid back into the pot.

===> To make the miso soup
Bring the strained dashi to boiling. Ready the miso paste in a measuring cup or small bowl. After the broth has boiled, pour 1 cup hot broth into with the prepared bowl with the miso. Whisk until smooth and completely combined. Pour the miso and broth back into the pot and turn the heat to low. Whisk the miso until it is incorporated into the broth completely. Keep over low heat; do not let the broth boil after the miso has been added.

Stir in the tofu cubes and the sliced scallions, and heat just until warmed through.

===> To prepare a bowl of soup
Place 1 cup cooked white rice in each soup bowl. Poach an egg for each bowl of soup. You can see how to poach an egg here. You can also poach an egg quickly in the microwave. (Alternatively, you can add an egg to a bowl of hot broth, cover it, and let stand for several minutes. I find that poaching the eggs separately on the stovetop is a little easier when serving more than one person.)

Pour about 1 cup of miso soup over the rice in each bowl, and place a poached egg on top. Serve with soy sauce, chili garlic sauce, and sesame oil.
Recipes by Course
Recipes by Main Ingredient
Recipes by Cuisine
Recipes by Preparation
Recipes by Occasion
Recipes by Dietary