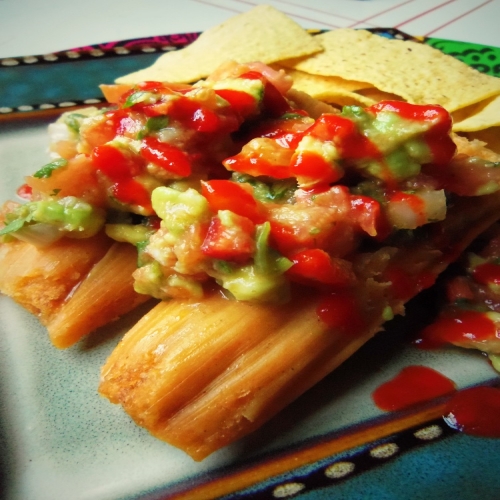 Prep Time:
Cooking Time:
Serves:
My Family's Chicken Tamales
Recipe Submitted by

Cobb

on

11/27/2014
Category: Healthy Recipes, Tomatoes, Chicken
Ingredients List
~~ For the Chicken Filling ~~
4 bone-in chicken breasts
Olive oil
1 medium white onion, diced
4 cloves of garlic, minced
5 Roma tomatoes (add 1/2 cup water and blend), set aside
1/3 cup of pickled jalapenos, minced
1/4 cup of jalapeno brine
1/3 cup carrots, diced, cooked
1/3 cup potato, diced, cooked
1 tablespoon ground cumin
Salt and fresh cracked pepper
Reserved chicken stock
~~ For the Masa ~~
2½ cups masa harina
2½ cups warm chicken stock
3/4 cup shortening
1 teaspoon baking powder
2 teaspoons salt
*You will also need 24 to 30 corn husks
Directions
1. Start by poaching the chicken breast in a pot filled with salted water for a good 40 minutes at a light boil. After the chicken is cooked, removed from broth onto plate and let cool.


2. Once chicken has cooled, shred all of the meat and set aside. In a pan, heat 3 tablespoons of oil to medium heat. Add the onions and garlic, cook for 5 minutes. Add all of the remaining ingredients, minus the salt. When it comes to a boil, reduce heat, taste for salt and add about 1/3 cup of reserved stock. Let it cook down and reduce for a good 30 to 35 minutes. Remove from heat and let it cool.


3. Combine the masa harina, baking powder, and salt in a large bowl. Add the warm chicken broth and using your hand, work it into a soft dough. In another bowl, melt the shortening in the microwave. Add the shortening to the masa and work it in with hands until you get a thick frosting consistency. If masa is too thick, add a little more chicken broth. Keep masa covered with plastic wrap until ready to use.


4. Prepare your tamale station. Soak the corn husk in hot water for a good 40 to 60 minutes. Place a heavy dish or pot to keep them submerged in water. Take a few of the husks, shake off excess water. Tear the husk so they are only about 4 inches wide. Place the corn husk lengthwise in the palm of your hand with wide side closest to you. Spread about 2 to 3 tablespoons of masa all over the bottom half of husk. Place 2 tablespoons of filling down the center of masa. Fold one side in, then the other so they are slightly overlapping. Fold the top flap down and lay the tamale seam-side down.


5. Prepare large (dutch oven style) pot to steam tamales, take a small metal steamer and place in the center of pot, expand out. Using a small bowl, turned upside down, set in the center. Pour in enough water to come up to 2 to 3 inches. Arrange all of your tamales standing up (open-side up) around the bowl. Cover with a wet kitchen towel or extra corn husk. Cover tightly and turn heat to high to get a quick boil going, reduce heat. For the next hour and 10 minutes you will have to check the tamales every 25 to 30 minutes for water level, adding hot water as needed. Do not let it run dry. After they have been steaming for an hour pull one tamale out and let it cool slightly. If the corn husk pulls away easily from the masa, your tamales are done. If not, steam them for an additional 20 minutes. Remove from heat and let them sit, covered, until ready to serve. The tamales will firm up as they cool.



Recipes by Course
Recipes by Main Ingredient
Recipes by Cuisine
Recipes by Preparation
Recipes by Occasion
Recipes by Dietary