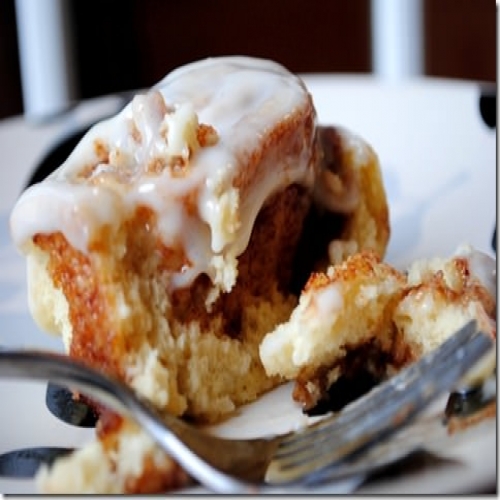 Prep Time:
Cooking Time:
Serves:
No Yeast Required Cinnamon Rolls.
Category: Holiday, Desserts, Cheese, Rolls
Ingredients List
For the Cinnamon Filling:
3/4 cup packed brown sugar
1/2 cup granulated sugar
1 Tablespoon cinnamon
1/2 teaspoon salt
2 Tablespoons butter, melted
For the Cinnamon Roll Dough:
2-1/2 cups all purpose flour, plus more for rolling out dough
1/4 cup granulated sugar
1-1/2 teaspoons baking powder
1/2 teaspoon baking soda
1/2 teaspoon salt
1 cup buttermilk
5 Tablespoons butter, melted and divided
For the Icing:
3oz cream cheese, softened
4 Tablespoons buttermilk
1 cup powdered sugar
Directions
1. Preheat oven to 425. Combine filling ingredients in a small bowl, then mix with a fork until well blended.

2. In a another, larger bowl, combine flour, sugar, baking powder, baking soda and salt. Whisk together buttermilk and 4 Tablespoons melted butter in a separate bowl, then pour into the middle of the dry ingredients. Stir together until dough just comes together (do not overmix.) Kneed slightly with your hands until the dough forms into a ball, then slice it in half.

3. On a lightly floured surface, roll each half into a 12×8"³ rectangle (think slightly longer than a sheet of paper.) Press half the filling mixture into the center, leaving 1/4"³ of the dough clear on all 4 sides, then roll like a sausage. Pinch together seam, trim ends and cut into 8 slices. Repeat with the other dough half, then place rolls in a non-stick sprayed 11×8"³ pan, or an 8×8 and 6×4"³ pan. Brush cinnamon rolls with remaining Tablespoon of melted butter and bake for 15 minutes, or until tops are golden brown.

4. Meanwhile, to make the icing, mash together softened cream cheese and powdered sugar with a fork until smooth. Whisk in buttermilk, 1 Tablespoon at a time, until creamy. Drizzle onto hot cinnamon rolls and spread evenly.

Recipes by Course
Recipes by Main Ingredient
Recipes by Cuisine
Recipes by Preparation
Recipes by Occasion
Recipes by Dietary