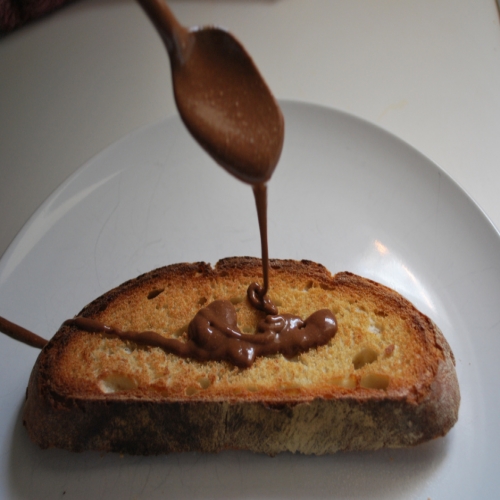 Prep Time:
Cooking Time:
Serves:
Category: Breakfast, Desserts, Chocolate
Ingredients List
(Makes a little over 1 cup)
2 cups raw hazelnuts
1 bar of milk chocolate (I used 33%) Vegans use 3.5 ounces Vegan Chips
3 tbsp. powdered sugar
2 tbsp. cocoa powder
¾ tsp. sea salt
½ tsp. vanilla
Directions
Preheat oven to 375. Put hazelnuts on a baking sheet and bake for 13- 15 minutes. Let cool completely. Put hazelnuts inside a kitchen towel and rub together for a few minutes until all the skins fall off.

There may still be a few left on, you just want the majority to be removed. In a food processor or high powered blender, like a vita-mix, blend hazelnuts until it forms a paste and is very smooth.

This took me about 5 minutes, but might take a little longer depending on the power of your processor. (Make sure to take a good long smell as the hazelnuts are blending, it is absolutely divine!) Melt 1 bar of chocolate in a pan, this takes just 2-3 minutes.

Once the hazelnuts are as smooth as you can get them add in melted chocolate, cocoa powder, powdered sugar, salt and vanilla. Blend a few more minutes until silky and smooth. Store in an airtight container in the fridge up to 10 days. Enjoy on toast, apples, bananas, or just by the spoonful!
Recipes by Course
Recipes by Main Ingredient
Recipes by Cuisine
Recipes by Preparation
Recipes by Occasion
Recipes by Dietary