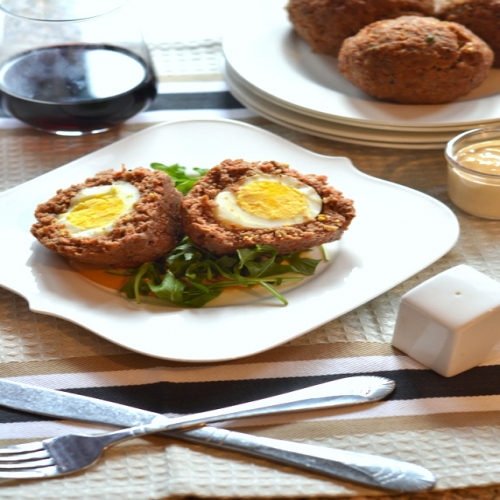 Prep Time:
Cooking Time:
Serves:
Category: Healthy Recipes, Eggs
Ingredients List
Seven eggs
2 lb KOL Foods lamb sausage
1 lb KOL Foods lamb bacon
1 jalepeno pepper
1 raw egg
Juice of one lemon
1 teaspoon marmite
1 teaspoon honey
1/2 cup walnut oil or olive oil
Directions
Begin by boiling your eggs. Once they have boiled, peel them and set them aside.

Grind the lamb sausage, lamb bacon and jalepeno pepper, then mix the meat together with your hands.

Once the meat is mixed, fill your palm with the meat mixture, flatten it into a patty then wrap it around the egg. If that sounds strange, watch the video above to see how I did this.

Once you have wrapped each of the eggs in meat put them in a pre-heated 425 degree oven for 45 minutes.

Use this time to pour yourself a glass of wine and make the marmite and honey aioli.

That"™s right, marmite. Melinda was so excited about the jar of marmite that I gave her that we had to work it into our day of cooking

Combine ingredients with an immersion blender until they form an aioli that looks like the photo below.

We were so pleased with the results of both of our dishes. The scotch eggs were a throwback to my highschool days, the marmite was a rocking addition to the plate, and Melinda"™s Lancashire Hotpot was simply delicious "" possibly the best thing British food has to offer.
Recipes by Course
Recipes by Main Ingredient
Recipes by Cuisine
Recipes by Preparation
Recipes by Occasion
Recipes by Dietary