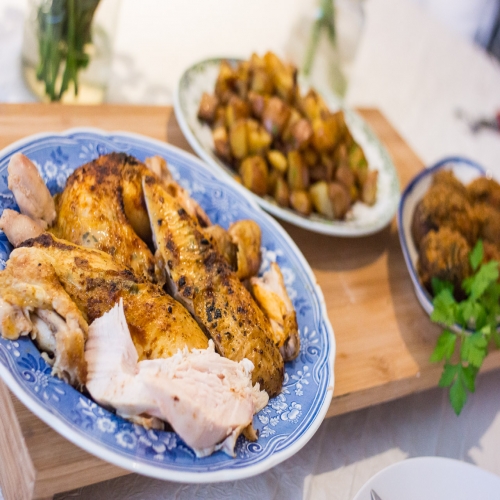 Prep Time:
Cooking Time:
Serves:
Paprika Roasted Chicken and Potatoes
Category: Dinner Party, Potatoes, Chicken
Ingredients List
1 chicken, around 3 pounds
1 tablespoon salt
4 sprigs fresh thyme
1/2 onion
4 garlic cloves
1 tablespoon smoked paprika
1 teaspoon hot Hungarian paprika
1 tablespoon olive oil
1 1/2-2 pounds waxy potatoes (I used Cherie), scrubbed and dried
3 tablespoons duck fat, rendered bacon fat, or oil
1 teaspoon smoked paprika
salt and peppe
Directions
8 hours to 3 days before you plan to cook the bird, pat it completely dry inside and out with paper towels, removing the gizzards and fat from inside the cavity if they were included. Sprinkle a little of the salt inside the cavity, along the backbone. Sprinkle the rest of the salt all over the skin. Cover loosely and refrigerate until you"™re ready to roast.

Heat your oven to 475°F (250°C).

Prepare the rub: finely grate 1 of the cloves of garlic and mix in a small bowl with the smoked paprika, Hungarian paprika, and olive oil.

Remove the chicken from the fridge and stuff with the thyme sprigs, 1/2 an onion, and the 3 remaining garlic cloves, smashed with the blade of a knife or with the bottom of a heavy mug. Rub the paprika mixture all over the outside of the chicken. Truss the bird if desired, or just tie the legs together with a bit of twine.

Cut the potatoes into a 3/4"³ dice. Warm the duck fat (or bacon fat or oil) in a heavy cast-iron skillet over medium-high heat until the fat is melted. Add the diced potatoes, smoked paprika, and salt and pepper to taste, and toss well to coat the potatoes with the fat.

Make a well in the center of the potatoes to expose some of the cast iron (if you have enough room in your skillet to do so). Lay the chicken breast-side up in the center of the cast iron and immediately transfer to the hot oven. After 30 minutes, remove the chicken to a plate, give the potatoes a stir, flip the bird breast-side down onto the potatoes and place back into the oven. Lower the heat to 425°F (220°C). Roast for another 15-20 minutes, then flip again breast-side up. Finish roasting for 5-10 minutes, or until an instant-read thermometer inserted into thickest part of the thighs registers 165°F (74°C).

Remove the chicken to a plate or carving board to rest for 10-15 minutes. Meanwhile, give the potatoes another toss and return to the oven for a final crisping. Serve the potatoes hot out of the oven and the chicken carved or whole.
Recipes by Course
Recipes by Main Ingredient
Recipes by Cuisine
Recipes by Preparation
Recipes by Occasion
Recipes by Dietary