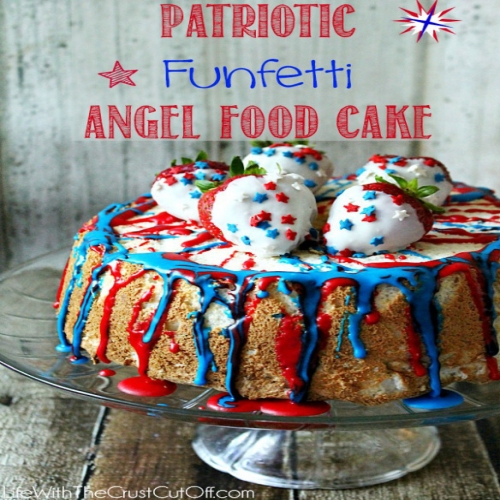 Prep Time:
Cooking Time:
Serves:
Patriotic Funfetti Angel Food Cake
Category: Dinner Party, Gifts, Holiday, Kids, Cakes
Ingredients List
About 12 large eggs
1 1/2 cups powdered sugar
1 cup cake flour or all-purpose flour
1 1/2 teaspoons cream of tartar
1 cup granulated sugar
1 1/2 teaspoons vanilla
1/2 teaspoon almond extract
1/4 teaspoon salt
1 cup confectioners sugar
red and blue food coloring
strawberries
white chocolate
sprinkles
Directions
About 30 minutes before making the cake, place an egg separator over a small bowl. Crack each egg over the egg separator to separate the whites from the yolk. (save the yolks for another recipe.) Transfer egg whites to a 2-cup measuring cup until there are 1 1/2 cups of egg whites.

Place the egg whites in a clean large bowl, and let stand at room temperature up to 30 minutes.

Move the oven rack to the lowest position; remove other oven rack. Heat the oven to 375°F. In a medium bowl, mix the powdered sugar and flour; set aside.

Add the cream of tartar to the egg whites; beat with an electric mixer on medium speed until mixture looks foamy. On high speed, beat in the granulated sugar, 2 tablespoons at a time; add the vanilla, almond extract and salt with the last addition of sugar. Continue beating until meringue is stiff and glossy. Do not underbeat.

Sprinkle the powdered sugar-flour mixture, 1/4 cup at a time, over the meringue; to fold in, use a rubber spatula to cut down vertically through the batter, then slide the spatula across the bottom of the bowl and up the side just until sugar-flour mixture disappears. Gently fold in about 1/4 cup red, white, blue sprinkles. When all sugar-flour mixture has been folded in, spoon the batter into an ungreased 10x4-inch angel food (tube) cake pan. Using a metal spatula or knife, gently cut through the batter, spreading batter gently against side of pan and tube, to break large air pockets.

Bake 30 to 35 minutes or until cracks in cake feel dry and top springs back when touched lightly. Immediately turn pan upside down onto a heatproof funnel or bottle. Let cake hang about 2 hours or until completely cool. Run knife around edge of pan to help release cake from pan and place on cake stand.

Divide confectioners sugar in 3 bowls (1/3 cup each) and add a few drops of red food color to one bowl, a few drops of blue to another. Add cold water 1/2 teaspoon at a time to each bowl of sugar until you get a thick glaze. Drizzle glazes all over cake.

Melt a quarter pound of white melting chocolate in the microwave in 30 second intervals until smooth. Dip 5-6 strawberries into the chocolate, letting the excess fall off, and place berries on wax paper and immediately sprinkle with star sprinkles. When strawberries are dry add them to the top of the cake. Slice and serve!
Recipes by Course
Recipes by Main Ingredient
Recipes by Cuisine
Recipes by Preparation
Recipes by Occasion
Recipes by Dietary