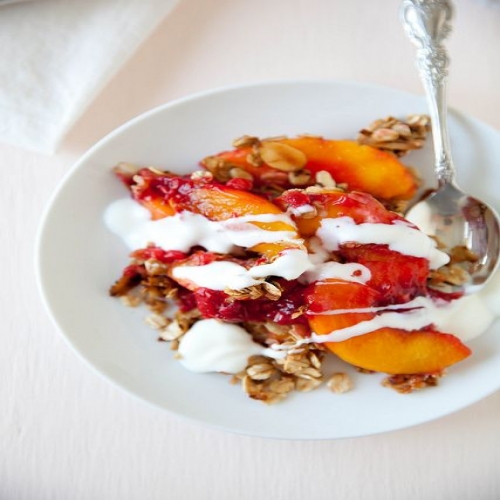 Prep Time:
Cooking Time:
Serves:

4-6 Servings
Peach Raspberry Granola Crumble
Category: Healthy Recipes, Main Dish
Ingredients List
><><>< For the granola ><><><
½ cup shredded coconut
3 tbsp. coarsely chopped walnuts
3 tbsp. sliced or chopped almonds
1½ cups rolled oats
1½ tbsp. coconut oil (or olive oil)
2 tbsp. honey
2 tbsp. maple syrup
Pinch of coarse salt
Dash of ground cinnamon
Dash of grated nutmeg
><><>< For the fruit filling ><><><
1 lbs. frozen sliced peaches
1½ tbsp. cornstarch
1 tbsp. sugar
Squeeze of fresh lemon juice
6 oz. fresh raspberries
><><>< To top ><><><
Vanilla greek yogurt (I mixed my plain yogurt with a bit of vanilla syrup)
OR Vanilla frozen yogurt
Directions
To make the granola, preheat the oven to 325Ëš F. Line a baking sheet with parchment paper or a silicone baking mat. Place a medium skillet over medium heat. Add the coconut to the pan in an even layer and cook, stirring frequently, until lightly browned and toasted. Transfer to a bowl and wipe out the pan. Return the pan to the heat and add the chopped walnuts and almonds. Cook, stirring occasionally, until lightly browned, 3-4 minutes. Stir in the oats and coconut oil and continue to cook, stirring occasionally, until the oats are lightly toasted, about 3 minutes.

Transfer the oat mixture to a large bowl and stir in the honey, maple syrup, salt, cinnamon, and nutmeg. Spread out onto the prepared baking sheet in an even layer. Bake, stirring every few minutes, until the granola is light golden brown, about 15 minutes. Stir in the shredded coconut. Let cool to room temperature, then break into clusters.

Increase the oven temperature to 375Ëš F. In a medium bowl, combine the peaches, cornstarch, sugar and lemon juice. Toss until well combined. Gently fold in the raspberries.

Transfer the mixture to a baking dish and place in the preheated oven. Bake about 20-30 minutes, until the fruit is warm and juicy. Sprinkle the granola over the top in an even layer. Return the baking dish to the oven and bake about 10 minutes more, until the top is golden brown and the fruit is bubbling. Remove from the oven and let cool briefly before serving. Top with vanilla yogurt or frozen yogurt as desired.
Recipes by Course
Recipes by Main Ingredient
Recipes by Cuisine
Recipes by Preparation
Recipes by Occasion
Recipes by Dietary