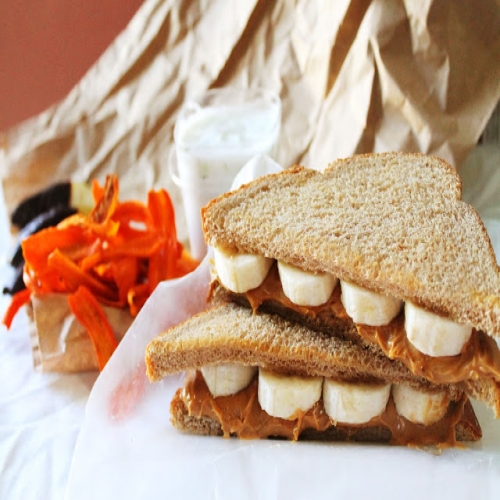 Prep Time:
Cooking Time:
Serves:
Peanut Butter Banana and Honey Sandwich.
Category: Chocolate, Carrots, Apples, Sandwiches, Fruit
Ingredients List
Peanut Butter Banana and Honey Sandwich:
2 slices 100% whole wheat bread
4 Tlb. organic creamy peanut butter
1 ½ Tlb. orange blossom honey
1 ripe banana
Carrot Chips and Dip:
4 large carrots
2 Tsp. sea salt
2 Tsp. olive oil
1/3 cup greek yogurt
1 cucumber
1 stem dill
Chocolate Covered Apples:
1 granny smith
Chocolate dip mix
Directions
1. I honestly am using a microwaveable chocolate mix because it is so easy, quick, and tasty. This lunch is for your kids, and you don"™t need to slave over the small things to achieve what you want.

2. That being said core and slice your apple, then following the instructions heat up your chocolate. Dip the slices in the chocolate, place on a wax paper covered plate, and leave in the freezer to harder.

3. Preheat the oven to 350 degrees, and peal the skin off of the carrots, and then chop into three sections. Using a mandolin, or whatever thin slicer instrument you have, slice the carrots paper thin.

4. In a bowl mix together the carrot, olive oil and sea salt. Lay all the slices out on to two baking sheets (they can touch but not overlap). Place in oven and cook for 30 minutes, at the half way point flip the sheet trays around. Once they are finished, take out and lay on a cooling rack so they can crisp up.

5. In the meantime make the dip by peeling and very finely dicing half of the cucumber, and dicing up the dill. Mix up the greek yogurt, cucumber, dill, and a pinch of salt.

6. Now on to the finale, the sandwich, three easy steps. Take the bread, spread the peanut butter, place banana slices, drizzle honey, put top slice on, slice"¦ and eat!!!

7. This lunch is so simple, delicious, and healthy. Wind down the summer and get ready for the school year, and make your kids this lunch"¦.hey even boyfriends love it!!!
Recipes by Course
Recipes by Main Ingredient
Recipes by Cuisine
Recipes by Preparation
Recipes by Occasion
Recipes by Dietary