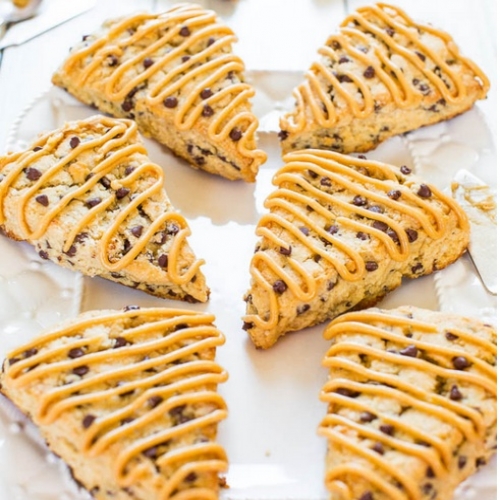 Prep Time:

10 Minutes

Cooking Time:

12-15 Minutes

Serves:

8 medium/large scones
Peanut Butter Chocolate Chip Scones with Peanut Butter Glaze
Recipe Submitted by

Twinkies

on

06/28/2014
Category: Breakfast, Desserts
Ingredients List
~~~~~ Scones ~~~~~
2 cups all-purpose flour
1/2 cup granulated sugar
1 tablespoon baking powder
pinch salt, optional and to taste
1/2 cup unsalted butter, cold (1 stick)
1 large egg
1/3 cup creamy peanut butter
1/4 cup sour cream (lite is okay; Greek yogurt may be substituted)
2 teaspoons vanilla extract
1 cup semi-sweet mini chocolate chips
~~~~~ Glaze ~~~~~
1/2 cup creamy peanut butter
1 cup confectioners' sugar
about 2 to 3 tablespoons milk or cream
Directions
1. Preheat oven to 400F. Line a baking sheet with a Silpat or parchment; set aside.

2. Scones - In a large bowl, add 2 cups flour, granulated sugar, baking powder, optional salt, and whisk to combine.

3. Add the butter, and with a pastry cutter or two forks, cut the butter in. You can use a food processor, but I find not having to wash it is a big time-saver. I smoosh the butter with forks and when it's the size of large marbles, I use my hands and knead it in. It will feel like semi-wet, cool sand. Some larger pea-sized butter clumps are okay; set bowl aside.

4. In a small bowl, add the egg, 1/3 cup peanut butter, sour cream, vanilla, and whisk to combine until smooth.

5. Pour wet mixture over dry, and fold until just combined with a soft-tipped spatula; don't overmix or scones will be tough. If dough seems very crumbly or isn't coming together, add sour cream, 1 tablespoon at a time, until moist enough to come together.

6. Add the chocolate chips and fold to combine.

7. Turn dough out onto a Silpat or clean, lightly floured work surface and with lightly floured hands or a spatula, pat dough into an 8-inch round, approximately 2 inches high.

8. With a large knife, slice round into 8 equal-sized wedges.

9. Using a flat spatula or pie turner, transfer wedges to prepared baking sheet spaced at least 2-inches apart. Do not crowd because scones puff and spread while baking.

10. Bake for about 12 to 15 minutes, or until scones are very lightly golden and cooked through. They set up more as they cool; it's critical not to overbake or scones will be dry. A toothpick inserted in the center should come out clean or with a few moist crumbs, but no batter. Because they're baking in quite a hot oven, watch them closely starting after about 11 minutes to ensure the bottoms aren't getting too browned.

11. Allow scones to cool on baking tray for about 5 minutes before removing and transferring to a rack to finish cooling. While the scones cool, make the glaze.

12. Glaze - In a medium, microwave-safe bowl, add 1/2 cup peanut butter and heat for 30 seconds to soften.

13. Add the confections's sugar, 2 tablespoons cream, and whisk together until smooth. Depending on desired consistency, you may need to play with the cream and sugar ratios slightly.

14. Evenly drizzle the glaze over the scones before serving or frost them like a frosted sugar cookie, which I prefer. If you drizzle the glaze, you'll likely have extra. It will keep airtight in the fridge for up to 1 month; reheat gently in micro before using again. Scones are best fresh, but will keep airtight at room temperature for up to 3 days. I'm comfortable storing glazed items at room temperature, but if you're not, glaze only the scones you plan to consume immediately; I don't recommend refrigerating scones because they'll dry out.
Recipes by Course
Recipes by Main Ingredient
Recipes by Cuisine
Recipes by Preparation
Recipes by Occasion
Recipes by Dietary