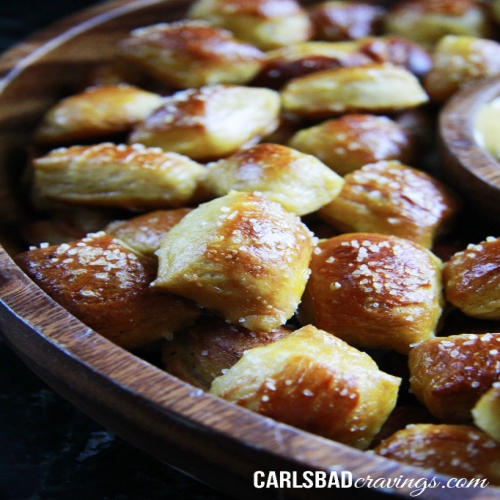 Prep Time:
Cooking Time:
Serves:
Perfect Pretzel Bites with Cheesy Jalapeno Ranch Dip
Category: Dips
Ingredients List
Perfect Pretzel Bites
1 1/2 cups warm (110 to 115 degrees F) water
1 tablespoon sugar
1 package active dry yeast (2 ¼ teaspoons)
2 teaspoons kosher salt
22 ounces all-purpose flour, approximately 4 1/2 cups
4 tablespoons unsalted butter, melted
10 cups water
2/3 cup baking soda
1 large egg yolk beaten with 1 tablespoon water
sea salt
Cheesy Jalapeno Ranch Dip
1 tablespoon butter
1 jalapeno, diced with seeds reserved
1 tablespoon all-purpose flour
1 cup milk
1 garlic clove, minced
2 teaspoons dry ranch seasoning
1/8-1/4 teaspoon pepper
1 heaping cup freshly grated cheddar cheese
4 oz. cream cheese, cubed and softened
Directions
1. Combine the water, sugar and yeast in the bowl of a standard mixer. Let sit 5 minutes. Add salt, flour and butter and mix (using the dough hook attachment) on low speed until combined. Increase speed to medium and continue to knead until the dough is smooth and pulls away from the side of the bowl. At this point, continue to knead for 3 minutes. Remove the dough from the bowl, clean the bowl if necessary, then spray the bowl with nonstick cooking spray. Return the dough to the bowl, cover with plastic wrap or a towel and let rise in a warm place for approximately 1 hour, or until the dough doubles in size.

2. Preheat the oven to 450 degrees F. Line two baking sheets with parchment paper and lightly spray with nonstick spray or line with nonstick baking mats.

3. Bring the 10 cups of water and the baking soda to a rolling boil in an 8-quart saucepan or small roasting pan.

4. In the meantime, place the dough on a flat surface and divide the dough into 8 equal pieces. Roll out each piece of dough into a 14 inch long rope. Using a pizza cutter or very sharp knife, cut the dough into one inches pieces.

5. Boil the pretzel bites in the baking soda water in batches of about 20 pretzel bites for 30 seconds per batch*. Remove pretzels with a large slotted spoon and place on prepared baking sheets, making sure they are not touching. Brush the tops with the egg wash and lightly season with sea salt. Bake for 8-10 minutes or until golden brown. Transfer bites to a cooling rack and let rest 5 minutes before eating. Serve with cheese sauce.

6. While pretzels are resting, prepare cheese sauce by melting butter over medium heat in a small saucepan. Add jalapeno (without any seeds), and sauté for 3-4 minutes, or until softened. Whisk in the flour and garlic and cook 2 minutes, stirring constantly. Slowly whisk in the milk then bring to a boil. Lower heat and simmer until slightly thickened, whisking constantly. Reduce heat to low then stir in cream cheese until melted, followed by cheddar cheese, stirring until completely melted. Stir in ranch seasoning. At this point, taste and add desired amount of jalapeno seeds for heat and 1/8 or more pepper to taste. (I don't add salt because the pretzels are salty) If you prefer your cheese sauce a little thinner, then add milk to reach desired consistency.

7. Dip pretzels in Cheesy Jalapeno Ranch Sauce and enjoy!

Recipes by Course
Recipes by Main Ingredient
Recipes by Cuisine
Recipes by Preparation
Recipes by Occasion
Recipes by Dietary