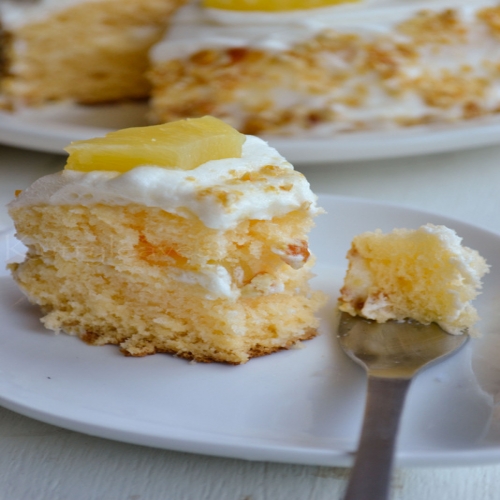 Prep Time:

30 minutes

Cooking Time:

25 minutes

Serves:
Category: Holiday, Kids, Cakes
Ingredients List
For Sponge Cake:
Powdered Sugar- 1/2 cup + 1 tbsp(80 gms)
Eggs,separated - 2 medium( at room temperature)
Pineapple essence- 1/4 tsp( or use 1/2 tsp vanilla extract)
Water- 1/2 tbsp
All purpose flour- 1/3 cup(45 gms)
Cornflour- 1/2 tbsp
Baking powder- 3/4 tsp
Other ingredients :
Whipping cream-3/4 to 1 cup
Powdered sugar-1 to 2 tbsp
Canned pineapple- 3/4 to 1 cup( 225 gms can)
Praline-1/2 to 3/4 cup ( optional)( recipe below)
Directions
1. Line a 6 " cake tin with parchment paper and grease the parchment paper generously.Preheat oven to 180 Deg C.

2. In a mixing bowl,combine together egg yolks,powdered sugar,pineapple essence and water.Beat for about 5 minutes or until it turns thick and pale.Keep aside.

3. In another clean bowl,beat the egg whites until stiff peaks form.Keep aside.( Make sure the bowl and the beater is clean and dry.)

4. Sift together all purpose flour,cornflour and baking powder.
Gently fold in the flour mixture and egg whites to the egg yolk mixture in 3 or 4 batches.( For a light and airy sponge fold the flour and egg whites into the yolk mixture with a gentle cutting,lifting and folding action.)

5. Immediately transfer the batter into the prepared cake pan and bake for about 18 to 20 minutes or until a skewer inserted into the center of the cake comes out clean.

6. In a bowl,beat whipping cream and icing sugar until soft peaks form.Keep aside.

7. Drain the syrup from canned pineapple tin.(This syrup can be used to moisten the sponge layers.)Cut the pineapple slices to small pieces.Keep aside.

8. Carefully split the cake into two layers.Place one layer of cake on a serving plate,moisten the cake with pineapple syrup.

9. Spread the whipped cream and top with chopped pineapple.

10. Place other layer of the sponge and drizzle pineapple syrup on top.Spread the remaining whipped cream over the sides and top of the cake.

11. Decorate the sides of the cake with praline.

12. Garnish with pineapple pieces and praline.Refrigerate for 2 to 3 hours.Serve chilled.

........................NOTES........................

To prepare praline ,heat 1/4 cup sugar and 1 tbsp water in a heavy bottomed pan.When sugar starts to caramelize add 1/2 cup chopped cashew nuts and mix well until combined.Cook until the color changes to deep amber.Transfer the praline to a greased tray .Allow it to cool completely and crush it using a rolling pin.
Recipes by Course
Recipes by Main Ingredient
Recipes by Cuisine
Recipes by Preparation
Recipes by Occasion
Recipes by Dietary