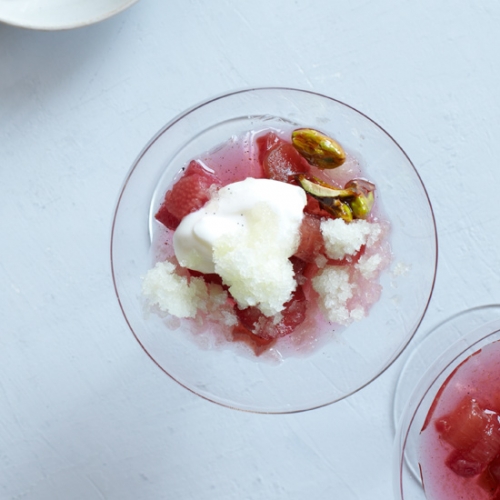 Prep Time:

ACTIVE: 45 MIN

Cooking Time:

TOTAL TIME: 3 HRS 15 MIN

Serves:

6 Servings
Poached Rhubarb with Melon Granita
Category: Desserts
Ingredients List
1 cup plus 2 tablespoons sugar
3/4 pound Galia or honeydew melon""halved, seeded, peeled and cut into 1-inch pieces
Kosher salt
1 vanilla bean, split and seeds scraped
1 teaspoon rose water
1 pound rhubarb, cut into 1/2-inch dice (see Note)
1/2 cup shelled unsalted pistachios
1/3 cup lebneh (see Note) or plain whole-milk Greek yogurt
1 tablespoon honey
Directions
In a medium saucepan, combine 1 cup of the sugar with 1 cup of water and bring to a boil; simmer until the sugar is dissolved, about 3 minutes. In a blender, combine the melon with 1/4 cup of the hot syrup and a pinch of salt and puree until smooth. Pour the melon puree into a square metal baking pan and freeze until solid, at least 3 hours.
Meanwhile, add the vanilla bean and seeds and the rose water to the remaining syrup in the saucepan and bring to a boil. Simmer over low heat for 10 minutes. Stir in the rhubarb and simmer over moderately low heat, stirring occasionally, until the rhubarb is just softened, about 7 minutes. Remove from the heat and let cool completely. Discard the vanilla bean. Refrigerate the rhubarb in the syrup until well chilled, about 1 hour.
In a medium saucepan, combine the remaining 2 tablespoons of sugar with 1 tablespoon of water and bring to a boil. When the sugar is dissolved, stir in the pistachios and cook over moderate heat, stirring occasionally to break up the clumps, until the nuts are glazed in a deep amber caramel, about 7 minutes. Transfer the candied pistachios to a plate and season with salt. Let cool completely, then break up any clumps.
Remove the granita from the freezer and let stand at room temperature until it just starts to soften, about 10 minutes. Using a fork, scrape the granita into icy flakes.
In a medium bowl, whisk the lebneh with the honey. To serve, spoon the chilled rhubarb and its syrup into glasses and top with the lebneh, granita and candied pistachios.

Make Ahead:
The granita can be frozen for up to 1 week. The poached rhubarb can be refrigerated in its syrup for up to 3 days. The candied pistachios can be stored in an airtight container at room temperature for up to 5 days.
Notes

If fresh rhubarb isn"™t available, frozen can be used. Lebneh is a yogurt-like fresh Lebanese cheese. It is available at specialty and health food stores.

Recipes by Course
Recipes by Main Ingredient
Recipes by Cuisine
Recipes by Preparation
Recipes by Occasion
Recipes by Dietary