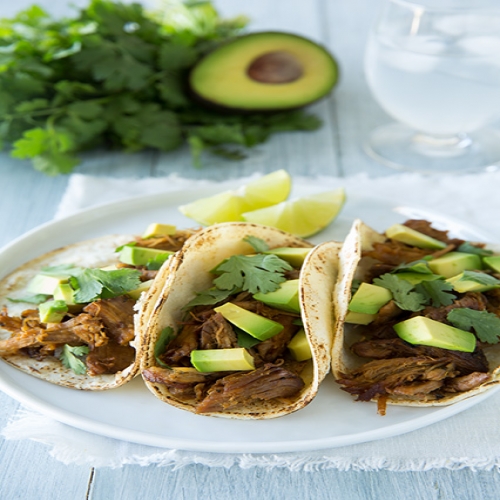 Prep Time:
Cooking Time:
Serves:

6-7 servings
Category: Pork, Main Dish
Ingredients List
3 lbs boneless pork shoulder, trimmed of excess fat and cut into 4 chunks
1 1/2 tsp salt, then more to taste as desired
1 tsp freshly ground black pepper
3 Tbsp olive oil
1 yellow onion, peeled and sliced into 4 thick rings
4 cloves garlic, minced
1 1/4 cups low-sodium chicken broth
Juice of 2 large oranges and zest of 1 1/2 oranges (1/2 cup juice)
Juice and zest of 1 lime (2 Tbsp juice)
1 tsp chili powder
1 tsp ground cumin
1/2 tsp paprika
1/4 tsp ground coriander
1/4 - 1/2 tsp cayenne pepper, to taste
2 Tbsp chopped fresh oregano
1 cinnamon stick
Corn tortillas, avocados, cilantro and lime juice, for serving
Directions
Preheat oven to 325 degrees. Sprinkle pieces of pork evenly with salt and pepper and rub into pork. Heat olive oil in a large cast iron pan over medium-high heat. Once oil is hot, add in two of the pork pieces and brown on all sides until well browned, while moving pork as little as possible while browning. Remove pieces and repeat with remaining two pieces of pork, then remove pork and add in onions. Saute onions until golden about 2 minutes per side and adding in garlic during last 30 seconds of sauteing. Reduce heat to medium-low, add in chicken broth, orange juice and lime juice and scrape bottom of pan to loosen browned bits. Return pork to pot, sprinkle evenly with orange and lime zest, chili powder, cumin, paprika, coriander and cayenne pepper and fresh oregano (you want half of the zest/spices to go over the tops of the pork and the other half to go into the broth). Add cinnamon stick to broth in center of pot. Transfer to oven and bake, uncovered in preheated oven 3 - 3 1/2 hours rotating pork once during baking and covering pot at about 2 1/2 hours as needed to prevent excessive browning and to reserve a small amount of broth (you want about 1/2-inch of broth when it's done cooking to toss the shredded pork into).

Remove from oven and shred or dice pork into bite size pieces, while removing any pieces of fat. Return to broth in pot and toss to evenly coat. (Optional step) Heat oven to broil and return pot to lower half oven and broil 4 - 5 minutes, then remove from oven and toss. Return to oven and broil 4 - 5 minutes longer. Remove from oven, serve warm over corn tortillas with diced avocados, chopped cilantro and lime juice. Optionally you can also serve with lettuce, Monterey Jack, pico or salsa, hot sauce or sour cream.

Slow Cooker Method: Cut roast into 2 halves. Brown roast and other ingredients as listed above, then add all ingredients to a slow cooker, cover and cook on low heat 6 - 7 hours, until tender. Shred roast into bite size pieces. Line a baking sheet with foil. Transfer pork to baking sheet and align in a single layer, pour about 1 cup broth evenly over pork and broil in oven 4 - 7 minutes then toss and broil 4 - 7 minutes longer (I actually ended up pouring more broth over them after broiling for more flavor).
Recipes by Course
Recipes by Main Ingredient
Recipes by Cuisine
Recipes by Preparation
Recipes by Occasion
Recipes by Dietary