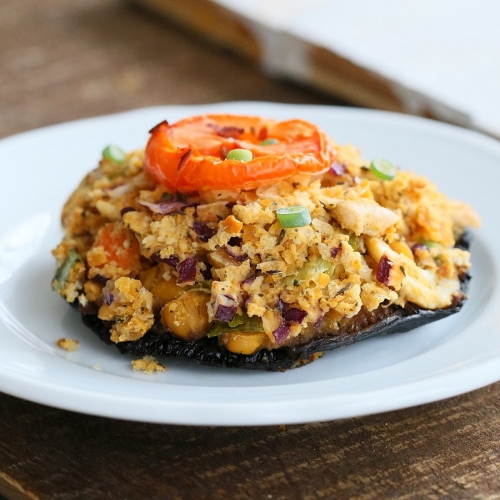 Prep Time:
Cooking Time:
Serves:

5-6 well stuffed bellas
Portabella Mushrooms stuffed with harvest Chickpeas
Category: Mashrooms
Ingredients List
Stuffing:
1 can Chickpeas/garbanzo beans or 1.5 cups cooked chickpeas
1/2 cup small chopped carrots
1/4 cup finely chopped red onions
3-4 scallions chopped
1/2 "" 3/4 tsp salt(depends on if the chickpeas are already salted or not)
1/2 tsp garlic powder
1/2 tsp smoked paprika
1+ tsp Italian herb blend(Thyme, oregano, rosemary, basil, marjoram)
2 Tablespoons vegan mayo or tahini
black pepper to taste
1/4 cup raw cashew halves
1/4 cup bread crumbs (use gf crumbs or omit or use coarsely ground oats to make gluten-free)
2 tsps extra virgin olive oil (optional)
Portabellas, stems removed. Remove gills if you like
salt, pepper, thyme to taste
extra virgin olive oil
1 tomato sliced
Directions
1. Wash and scrub the bellas. Pat dry. Brush olive oil all over and place with tops down on parchment lined baking sheet. Sprinkle a little salt, pepper and thyme on the bellas.

Stuffing:

2. In a bowl, add chickpeas and mash well. Add all the ingredients till black pepper and mix well. Taste and adjust salt and seasoning. When ready to use the stuffing to stuff the portabellas (or to stuff bell peppers or tomatoes or Squash), add the cashews, bread crumbs and oil and mix well. Add a few tsps broth or water if the mixture feels too crumbly.

Note:

1. If you like the veggies well cooked, then saute the onions in oil, for 4-5 minutes on low-medium heat. Then add carrots, cashews and mashed chickpeas and a few tablespoons of veggie broth, cover and cook for 5-8 minutes. Take off heat, add the rest of the ingredients and mix well and use.

2. Stuff the seasoned mushrooms with the stuffing. Top with tomato slices. Bake in preheated 350 degrees F for 30-40 minutes, or until the mushrooms are well done and the stuffing is golden,

3. Variations: Add cheese shreds of choice. Omit the bread crumbs or use gf crumbs or coarsely ground oats to make gluten-free.
Recipes by Course
Recipes by Main Ingredient
Recipes by Cuisine
Recipes by Preparation
Recipes by Occasion
Recipes by Dietary