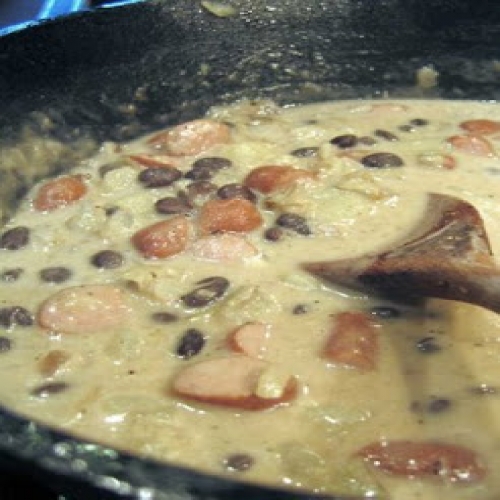 Prep Time:
Cooking Time:
Serves:
Potato and Lil Smokies Soup
Category: Healthy Recipes, Potatoes, Soups
Ingredients List
You will get the Ingredients with recipe's instruction.
Directions
Sautee in 1 Tbls butter and 2 Tbls olive oil, until onions begin to soften :
1/2 cup white onion, diced
1/4 cup red onion, diced

Add, stir often and continue to sautee for 2 minutes (you don't want the garlic to burn):
2 cloves of garlic, smashed and chopped
Fresh ground black pepper (about 1 tbls)

Add and simmer:
3 chicken bouillon cubes (use veggie cubes if going for a vegetarian soup)
3 1/2 cups of water (of course, if you happen to have real homemade broth- use that in place of the water and bouillon cubes!)
2 medium Russet potatoes, cubed with skin on (feel free to use left over baked potatoes)
10-15 Lil Smokies, sliced into bite sized pieces (try slicing each into three pieces)
1 can of black beans, rinsed and drained
pinch of salt

Continue to simmer until the potatoes are tender and the flavors have melded. (Try mushing some of the potatoes with the back of the spoon to help thicken the soup.) Expect to let this soup simmer for around 1/2 hour.

Add and continuously stir for a couple of minutes, the soup will begin to thicken slightly:
1/2 cup of cream

Turn off heat, stir in:
1/2 cup sharp white cheddar cheese, chopped or shredded
1/4 cup Parmesan cheese, chopped or shredded

The heat of the soup will melt the cheese and thicken the soup., but leave the heat off as you don't want the cheese to burn on the bottom of the pan. Salt and pepper to taste.

Bonus:
**for a little spicy twist, I added one tsp of green curry (just out of a can) to a left over bowl of this soup I was warming up and it was real fun kick! Be careful though- that green curry can be some hot stuff!
Recipes by Course
Recipes by Main Ingredient
Recipes by Cuisine
Recipes by Preparation
Recipes by Occasion
Recipes by Dietary