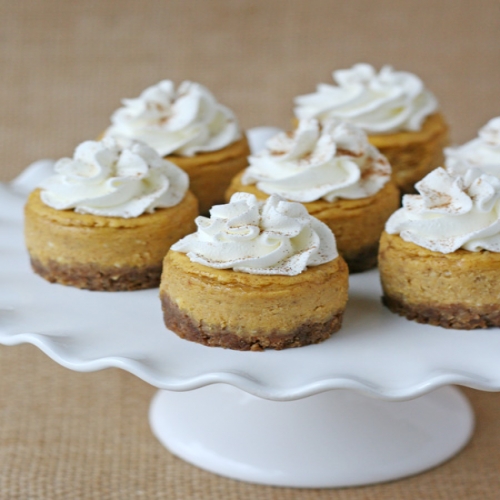 Prep Time:
Cooking Time:
Serves:

12 Mini Cheesecakes
Category: Holiday, Kids, Cheesecakes
Ingredients List
(12 Mini Cheesecakes)
Crust-
3/4 cup graham cracker crumbs
1 tablespoon light brown sugar
1 1/2 tablespoons butter, melted
1/4 teaspoon cinnamon
Filling-
1 (8oz.) package cream cheese
1/2 cup plus 1 tablespoon canned pumpkin puree
1 egg
2 tablespoons sour cream
1/2 cup sugar
1/2 teaspoon cinnamon
1/8 teaspoon fresh ground nutmeg
pinch of cloves
1 tablespoon flour
1/2 teaspoon vanilla
(9 inch Cheesecake)
Crust-
1 3/4 cups graham cracker crumbs
3 tablespoons light brown sugar
3 tablespoons butter, melted
1/2 teaspoon cinnamon
Filling-
3 (8oz) packages cream cheese
1 (15oz) can pumpkin puree
3 eggs
1/4 cup sour cream
1 1/2 cups sugar
1 teaspoon cinnamon
1/4 teaspoon fresh ground nutmeg
1/8 teaspoon cloves
2 tablespoons flour
1 teaspoon vanilla extract
Directions
1. Preheat oven to 350*F

2. For mini cheesecakes-
Preheat oven to 350*F
3. Prepare crust by combining crust ingredients in a small bowl. Mix to combine with a fork. Add one rounded tablespoon of moist crust crumbs into each mini cheesecake space. Use a small bottle (such as a spice bottle, or a shot glass) to press down the crumbs, to form a crust.

4. Prepare the filling-
Beat the cream cheese until smooth. Add pumpkin, eggs, sour cream, sugar and spices. Blend until combined. Add flour and vanilla, and beat until well combined.
Pour filling into prepared crusts. Divide batter amoung the 12 spaces.

5. Bake mini cheesecakes in pre-heated oven for 20 minutes. Remove from oven and cool about 15 minutes. Cover lightly with plastic wrap and refrigerate for 2 hours minimum.

6. For a large (9") Cheesecake- Follow general directions above. Press crust into the botom of a 9" springform pan. Prepare filling (as listed above). Bake cheesecake 1 hour. Cool 15 minutes, then cover with plastic wrap and refrigerate 4 hours before serving.

7. The cheesecake can be stored in the refrigerator up to 2 days.
Top finished cheesecakes with freshly whipped cream.

Recipes by Course
Recipes by Main Ingredient
Recipes by Cuisine
Recipes by Preparation
Recipes by Occasion
Recipes by Dietary