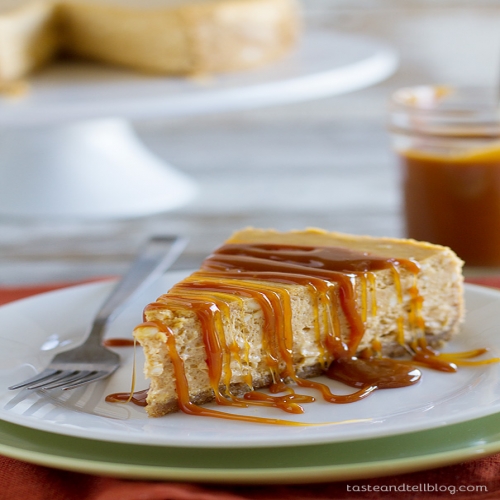 Prep Time:

40-minutes

Cooking Time:

1-hour 10-minutes

Serves:

12-16 servings
Pumpkin Cheesecake with Caramel Sauce.
Category: Kids, Holiday, Eggs, Sauces, Cheesecakes
Ingredients List
Cheesecake
1-1/2 cups graham cracker crumbs
5 tablespoons butter, melted
1 cup sugar, plus 1 tablespoon sugar
3 (8 ounce) packages cream cheese, softened
1 teaspoon vanilla
1 cup canned pumpkin
3 eggs
1 teaspoon cinnamon
½ teaspoon nutmeg
½ teaspoon allspice
Caramel Sauce
2 cups sugar
½ cup water
1-1/2 tbsp light corn syrup
â…" cup heavy cream
2 tbsp unsalted butter, at room temperature
Directions
For the Cheesecake:

1. Preheat oven to 350ºF. Wrap the outsides of an 8-inch springform pan* tightly with foil. (I usually triple wrap mine - you don"™t want any water to be able to get to the cheesecake.)

2. In a bowl, combine the graham cracker crumbs, melted butter and 1 tablespoon of sugar. Press the crumbs into the bottom and about â…" of the way up the sides of the springform pan. Bake the crust for 5 minutes, then set aside.

3. In the bowl of a mixer, combine the cream cheese, 1 cup of sugar and vanilla. Beat until smooth. Add in the pumpkin, eggs, cinnamon, nutmeg and allspice, and continue beating until the mixture is smooth and creamy. Pour the filling over the crust.

4. Place the pan in a roasting pan or any larger pan. Place in the oven, then pour water into the larger pan. You want about an inch of water surrounding the springform pan.**

5. Bake for 60-70 minutes, or until the cheesecake is firmer around the edges, but still a bit jiggly in the center. Keep the cheesecake in the oven, but turn it off and put a towel or wooden spoon in the door to prop it open. Let the cheesecake stay in the oven until it has come to room temperature, then remove, wrap in plastic wrap and refrigerate until cold.

6. When ready to serve, run a knife around the outside of the cake and then remove the sides of the springform pan.

========For the Caramel Sauce==============

1. Combine the sugar, water and corn syrup in a medium saucepan. Stir just to combine the ingredients, then place over medium-high heat.

2. Cook, without stirring, until the caramel starts to turn an amber color, 5-10 minutes. Lower the heat and slowly add the cream and butter.

3. Stand back, as it may start to spit and bubble up. Once the spatters calm down a bit, stir to combine and dissolve any lumps.

4. Drizzle the caramel sauce over individual cheesecake slices.

Recipes by Course
Recipes by Main Ingredient
Recipes by Cuisine
Recipes by Preparation
Recipes by Occasion
Recipes by Dietary