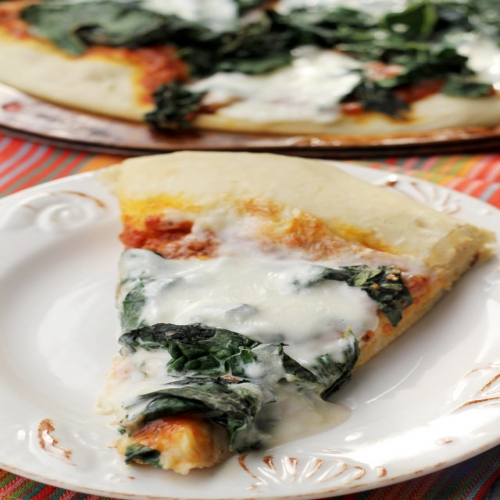 Prep Time:
Cooking Time:
Serves:
Pumpkin-Chipotle Pizza with Kale and Burrata.
Category: Lunch/Snacks, Cheese, Peppers, Tomatoes, Pizza
Ingredients List
For the pizza dough
1 tbsp active dry yeast
pinch of sugar
1 cup lukewarm water
3 cups bread flour
2 tsp sea salt
2 tbsp olive oil
For the pizza
1 (15 oz) canned pumpkin puree
28 oz fire-roasted diced tomatoes
2 tsp chipotle chili powder
salt and black pepper, to taste
8 oz burrata cheese
1 bunch lacinato kale, destemmed and coarsely chopped
¼ cup parmesan cheese
Directions
1. In a small bowl, combine the yeast with a pinch of sugar and ¼ cup lukewarm water, stirring to combine. Let sit for 5 minutes. If it becomes foamy, then the yeast is alive and raring to go! If not, then the yeast is probably dead or too old and your dough won't rise, so go buy more.

2. In the bowl of a stand mixer fitted with the bread hook attachment, combine the flour, yeast/water mixture, remaining ¾ cup water, olive oil, and salt. Stir on medium speed until dough comes together. Stir on medium-high speed for five minutes. Cover the bowl with plastic wrap and let rise in a warm place until doubled in size, about 2 hours.

3. Preheat oven to 550.

4. In a food processor, pulse together the pumpkin, fire-roasted tomatoes, chipotle chili powder, and salt and black pepper to taste until pureed. Set aside.

5. Steam the kale in the microwave or in a medium pot until wilted.

6. Rub a 12-inch pizza pan with olive oil. When the dough has risen, spread it out over the prepared pan. Spread enough pumpkin tomato sauce over the dough so that it covers it. You will have a lot of sauce left over that can be used for pasta, another pizza, etc.

7. Sprinkle the kale over the pizza. Top with slices of the burrata and a sprinkling of parmesan cheese. Bake for 10 minutes. Let cool for at least 5 minutes before cutting and serving.

Recipes by Course
Recipes by Main Ingredient
Recipes by Cuisine
Recipes by Preparation
Recipes by Occasion
Recipes by Dietary