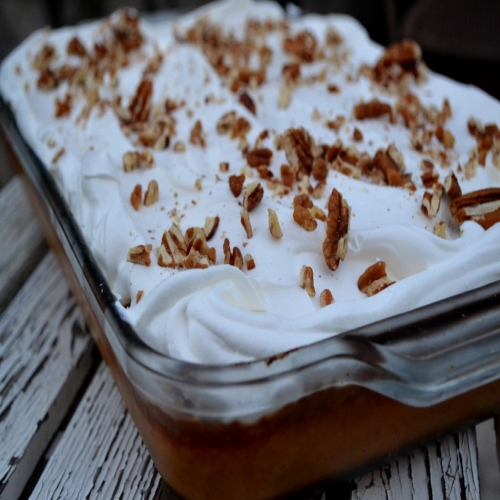 Prep Time:
Cooking Time:
Serves:
Pumpkin Crunch Cake
Recipe Submitted by

Marsala

on

11/08/2014
Category: Holiday, Kids, Cakes
Ingredients List
1 lg can of pumpkin
1 can evaporated milk
1 1/2 cup sugar
6 eggs
2 tsp cinnamon
1 tsp ginger
1 yellow cake mix
1 stick of butter (not cold, not room temp.. somewhere in the middle)
2 small or 1 large tub of Cool Whip
1 1/2 cup diced pecans / walnuts if desired
Directions
1. before we start this let me say that for as many times as I have made this, you need to trust me on a couple of things. Number 1 rule: Make this the day before you need it. I have tried to cheat this rule so many times and every time I regret being a slacker and not making it the day before. If you make is the day of, I promise bad things will happen. They just do. Trust me.

2. Start by preheating your oven to 350 degrees. Mix together the pumpkin, milk, sugar, eggs and spices of your choice.

3. Pour this mixture into a 13×9 pan. In a separate bowl, pour in your cake mix and add in 1 stick of butter. This is where I tell you to grab your trusty hand mixer and mix, mix, mix until both are harmoniously combined and resemble crumbs. I will tell you to do this step this way because you probably have not sacrificed your one and only hand mixer to the joy of combining 5 lbs of joint compound and latex paint to create Halloween props. You probably would have thought ahead a little bit and realized at some point you would need a hand-mixer for cooking, not spackling. You would be one step ahead of me, in this case. So, I rolled through this part the old fashioned way with fork in hand and 15 minutes to kill. Sigh"¦. I also noticed that I had a tendency to spill cake mix on the floor doing it this way"¦ like a swarm of sharks, suddenly floor lickers appeared of of nowhere to help me fix my mess "¦ having a pack is a good thing "¦

4. Once you have the cake and butter combined, if you want to add in half of the chopped nuts mix them in with the cake and sprinkle the entire mixture evenly over your poured pumpkin in the 13×9. Pop this into your oven and bake on the center rack for 50-55 minutes. Once done, remove and set aside to cool.

5. Now, here is the part I touched on earlier concerning trust. No matter how long you let this sit to cool, no matter if you pop it in your refrigerator for an hour and think that it will be cool enough"¦ this dessert has some kind of hidden heat properties"¦ no matter how cool it feels, it is never cool enough if you cook it the day you need it. Then what happens is that you plop on your two tubs of Cool-Whip and right before your eyes, you end up with a melted, gloppy mess that you cannot recover from. Again .. trust the Momma .. cook this the day before you need it.

6. ONCE COMPLETELY COOLED"¦ add on your Cool-Whip and spread evenly before adding on the remaining chopped nuts (if you are using them).

7. Before I upset anyone with the use of non Redi-Whip topping, let me explain. I was raised on The Whip and never had Redi-whip ever in my house as a I child. As an adult, I love it. My husband loves it. My dogs have been trained (thank you Husband) to come running whenever they hear that magical SHKKKKAAAAAAA sound because Mike will feed them all whippets out of the can. So believe me, this is not a favoritism situation. The reason I use Cool-Whip is because it stays.. it sets"¦ it never goes anywhere"¦ Redi-whip just doesn"™t keep as well so that is why I choose Cool-Whip over Redi-Whip. Now, you most certainly could use the latter, I would only suggest then to add it to the dessert piece by piece instead of covering the entire dish at one time. Again, its all about personal preferences.. whatever twirls your skirt up is fine by me.

8. Now sit back and wait for the onslaught of compliments. Smile and be gracious.. No one needs to know how easy this is to make. This will be our little secret, I promise.

9. Enjoy!
Recipes by Course
Recipes by Main Ingredient
Recipes by Cuisine
Recipes by Preparation
Recipes by Occasion
Recipes by Dietary