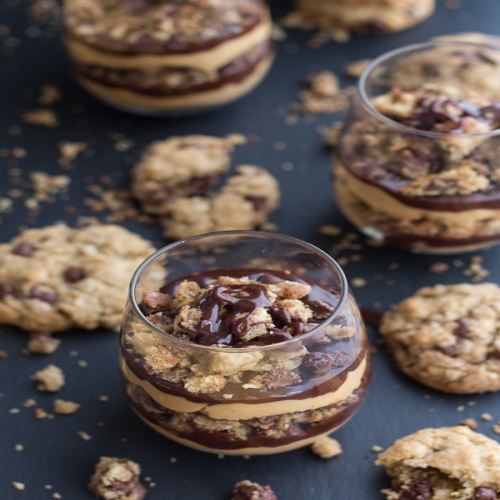 Prep Time:

5 minutes

Cooking Time:
Serves:

4 to 8
Quick + Easy Oatmeal Chocolate Chip Cookie Peanut Butter Mousse and Fudge Parfaits
Category: Desserts, Chocolate
Ingredients List
Chocolate Fudge (or you can sub store bought fudge sauce)
1/4 cup unsweetened cocoa powder
1/3 cup packed brown sugar
2 tablespoons light corn syrup
2/3 cup heavy cream
1/4 teaspoon salt
3 ounces milk chocolate, chopped
3 ounces good bittersweet or dark chocolate, chopped
2 tablespoon unsalted butter, cup into small cubes
2 teaspoon vanilla extract
Peanut Butter Mousse
1 1/2 cups creamy peanut butter
1 teaspoon vanilla extract
1/4 teaspoon salt
2 ounces cream cheese, softened to room temperature
1 cup cold heavy cream, divided
2 tablespoon powdered sugar
Directions
1. First, make these cookies !! Really you must. They are SO easy (just one bowl and no chill time) and SO good. Make them. Just let them cool a little before trying to crumble them.
2. Then make the fudge. Stir together cocoa powder, brown sugar, corn syrup, cream, salt and half of the chopped milk chocolate. Place in a small sauce pan and cook over medium heat, stirring, until chocolate is melted. Cook mixture at a low boil, stirring occasionally for 5 minutes. Remove pan from heat, add remaining chocolate, butter and vanilla and stir until smooth. Any leftover sauce can be refrigerated in an airtight container. Reheat over low heat, stirring or just use the microwave.
3. To make the mousse. Add the peanut butter, vanilla extract, salt, cream cheese and 1/2 cup of the heavy cream to the bowl of a stand mixer (or a large bowl and a hand mixer). Beat until smooth and creamy. Add the remaining 1/2 cup of heavy cream and whip until the mixture is light and fluffy. Add the powdered sugar and whip until smooth, light and fluffy.
4. To assemble grab 4-8 jars or glasses. Crumble a few cookies. Only crumble 1 or 2 at a time in case you end up not using them all. Add the cookie crumbs to the bottom of all the serving glasses. Top the cookies with the peanut butter mousse and drizzle on the fudge sauce. If the fudge sauce has become solid, just place it back on the stove for a few seconds to lightly melt the sauce back into a pourable state. Repeat the layer until all the mousse has been used, but make sure to top everything off with a final layer of oatmeal cookie chunks. I had a total of 3 cookie layers and 2 peanut butter + fudge layers, but my glasses where pretty big. Drizzle any remaining fudge sauce over the top of the final cookie layer. Either serve right away or cover the parfaits and place them in the fridge until ready to serve.
Recipes by Course
Recipes by Main Ingredient
Recipes by Cuisine
Recipes by Preparation
Recipes by Occasion
Recipes by Dietary