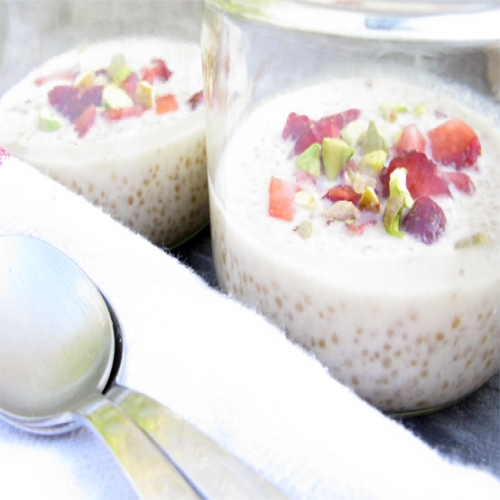 Prep Time:
Cooking Time:
Serves:
Category: Eggs/Dairy, Fruit, Beans
Ingredients List
3 cups whole milk (sub with almond, or coconut milk)
2 teaspoons vanilla or one vanilla bean
1/4 cup sugar
pinch of salt
1/4 cup water
1/6 teaspoon cinnamon
1 cup quinoa
a few diced strawberries
chopped pistachios
Directions
1. Place the quinoa in a strainer and rinse with cold water for a few seconds.
2. Combine the milk, water, sugar, salt, cinnamon and vanilla in a medium saucepan and bring to a simmer. Add the quinoa and stir. Reduce heat to medium low, partially cover (about 3/4 of the way) and cook for about 30 minutes, stirring every few minutes to avoid sticking. If skin starts to form across top of milk, just stir it back in.
3. If you find that your pudding seems a bit dry and the quinoa is still hard, just add a splash more milk and water and cook totally covered for a few more minutes.
4. Remove from heat and let cool to room temperature or cold in the fridge. Spoon pudding into bowls and top with chopped strawberries and pistachios.

Recipes by Course
Recipes by Main Ingredient
Recipes by Cuisine
Recipes by Preparation
Recipes by Occasion
Recipes by Dietary