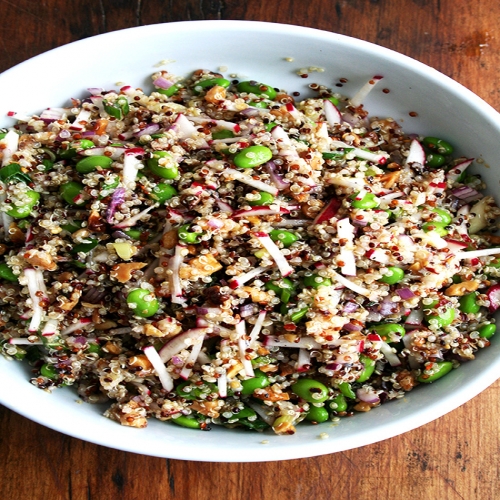 Prep Time:
Cooking Time:
Serves:
Quinoa Salad with Toasted Walnuts, Spring Onions, Edamame & Radish
Category: Side Dishes, Salads
Ingredients List
1 cup quinoa(I really like the Alter Eco varieties, especially the rainbow)
1 cup frozen edamame (or fresh fava beans if you can find them)
1 cup walnuts, toasted*, and chopped
1 small red onion, minced to yield 1/4 to 1/2 cup
4 to 5 scallions or spring onions, rinsed, trimmed and finely sliced**
8 to 10 radishes
kosher salt and pepper to taste
crushed red pepper flakes (optional)
1 to 2 lemons
1/3 cup extra-virgin olive oil
Directions
* Toast walnuts at 350ºF for 8 to 10 minutes "" watch closely to prevent burning. Place the toasted walnuts in a tea towel and rub together to remove papery skin. Transfer walnuts to a sieve and shake again to remove any additional skin. I know this is fussy, but it makes a difference. I have more detailed instructions here.

** I used the white and light green parts, but feel free to use as much of the dark green as you like "" mine were looking a little tired at the top, so I trimmed them.

1. Bring a large pot of water to a boil. Meanwhile, place quinoa in a fine-meshed sieve and rinse under cold water. When the water comes to a boil, add the quinoa and simmer for 9 minutes. Drain in a fine-meshed sieve and run under cold water until cool. Set aside to dry.

2. Meanwhile, cook the edamame. This is what I did this time, but feel free to use your own method: Bring a tea kettle of water to a boil. Place edamame in a bowl. Cover with boiling water. Let stand for 2 to 3 minutes. Drain. Rinse under cold water until cool. Set aside.

3. Meanwhile, slice up your radishes: If you have a mandoline, carefully slice each radish into thin disks. Note: if you keep the stem intact, you have a little handle to grab onto while you run the radishes down the mandoline"™s plane "" find a more detailed visual explanation here. Alternatively, thinly slice the radishes with a knife. Stack the circles on top of each other and slice straight down to get mini matchsticks.

4. Place the drained and dried quinoa into a large mixing bowl. Season all over with salt and pepper to taste. Crush some red pepper flakes over top if you are using. Add the edamame, walnuts, red onion, scallions, radishes, olive oil and the juice of one lemon to the bowl. Toss and taste. Adjust seasoning as necessary. I added the juice of another lemon, but my lemons were on the small side. I also added more crushed red pepper flakes "" I think a bit of heat is really nice in this salad.
Recipes by Course
Recipes by Main Ingredient
Recipes by Cuisine
Recipes by Preparation
Recipes by Occasion
Recipes by Dietary