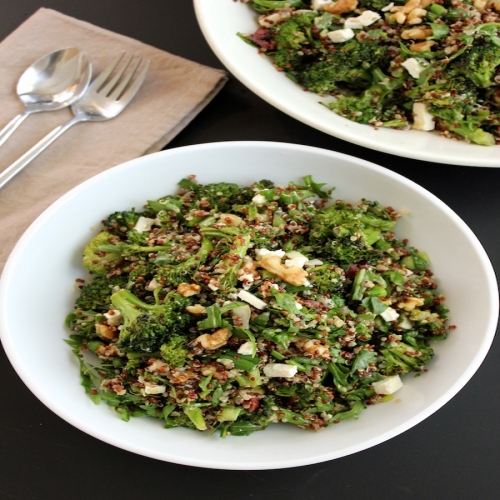 Prep Time:

15 Minutes

Cooking Time:

20 Minutes

Serves:

2 Servings
Quinoa with Roasted Broccoli and Arugula Salad
Category: Side Dishes, Salads
Ingredients List
1 cup of quinoa
2 cups of water
1 bouillon cube
1 head of broccoli "" chopped "" should equal roughly 4 cups
4 scallions
2 cloves of garlic
2 cups of arugula
10 olives
½ cup of Feta
1 large handful of walnuts
4 tbs of olive oil
½ lemon
Pepper to taste
Directions
1. Preheat oven to 400.

2. Rinse and chop up one head of broccoli. In a bowl, toss with 2 tbs of olive oil and pepper to taste.

3. Put broccoli on a baking sheet and place in the oven to roast for 15 minutes.

4. While broccoli is cooking, chop up the scallions. You"™re going to add about half of the scallions, the white end, to the roasting broccoli. Reserve green half of scallions for main salad.

5. Mince garlic or put through a garlic press.

6. After 15 minutes, remove broccoli from oven. Give it a stir and add the chopped white half of the scallions and the minced garlic. Stir to combine and put back in the oven for 5 minutes. Remove from oven after 5 minutes and let cool slightly.

7. While the broccoli is cooking, rinse and cook quinoa as per package instructions. It"™s usually a ratio of 1 cup of dried quinoa to 2 cups of water. Add a bouillon cube to the water.

8. When quinoa is done "" turn out on to a baking sheet to cool.

9. Roughly chop the arugula and add to a bowl.

10. Roughly chop the olives and add to the bowl.

11. Dice the feta and add to the bowl.

12. Add roasted broccoli, quinoa, chopped green ends of scallions and walnuts to the bowl. Toss to combine.

13. Mix together juice of half a lemon and 2 tbs of olive oil. Add a few twists of pepper and whisk to combine. Pour over salad and toss.

Recipes by Course
Recipes by Main Ingredient
Recipes by Cuisine
Recipes by Preparation
Recipes by Occasion
Recipes by Dietary