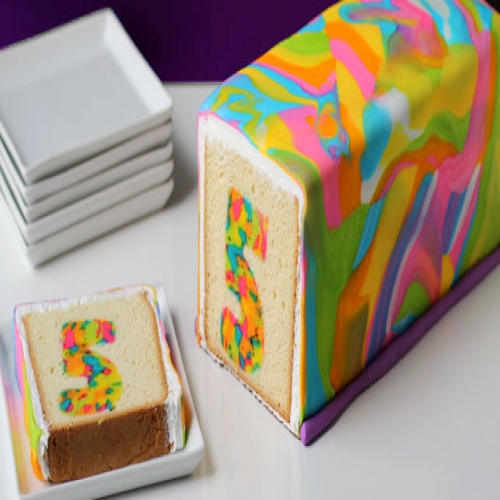 Prep Time:

2 Hours

Cooking Time:

7 Hours

Serves:

18 Servings
Rainbow Tie-Dye Surprise Cake
Category: Kids, Cakes
Ingredients List
4 (16 ounce) boxes Betty Crocker Pound Cake Mix
Eggs, butter, and milk according to package instructions
Neon food coloring
28 ounces fondant (your choice of colors)
Directions
1. Preheat oven to 325ºF.
2. Line a 16 x 4 x 4.5-inch loaf pan with non-stick aluminum foil or grease with shortening and dust with flour.
3. Make cake batter using two cake mixes, according to package instructions.
4. Divide batter in 5 bowls. Color one bowl neon orange, one bowl yellow, pink, blue, and green.
5. Pour batter into disposable pastry bags or zip top bags.
6. Drizzle colored cake batter, alternating colors into the pan until you use all the batter.
7. Tap the pan on the counter a few times to remove air bubbles.
8. Bake for 70-80 minutes until a toothpick inserted in the center of the cake comes out clean.
9. Cool cake in pan for 20 minutes, then remove and set cake on cooling rack and cool completely.
10. Cut cake into 1-inch thick slices. Lay slices flat on a baking tray and place in the freezer for at least one hour.
11. Cut numbers out of cake slices. Save cake scraps for another use, and place the number pieces back in the freezer.
12. Clean and prepare the loaf pan as before.
13. Make the remaining two cake mixes according to package instructions.
14. Pour a thin layer of cake mix into the loaf pan.
15. Pour remaining batter into an 18-inch pastry bag or a gallon-size zip top bag.
16. Line the number 5s in a single row down the center of the pan, piping batter into the pan as needed to keep the number pieces straight.
17. Pipe the remaining batter into the pan and on top of the numbers. Be sure to mark which direction the numbers are facing and keep track of this while decorating, so you know which end of the cake to slice into and have forward-facing numbers (in this case, 5s).
18. Smooth the batter.
19. Bake for 70-90 minutes, rotating pan 180 degrees after 40 minutes, until a skewer or cake tester inserted into the center of the cake comes out clean.
20. Cool cake completely.
21. Color fondant in a variety of neon colors.
22. Roll individual pieces of the colored fondant into logs. Press the logs together. Twist and fold to create a marble effect. Press fondant pieces together. Roll out to 24x15-inches.
23. Cover cake with fondant.
24. Create a border using a different color fondant.
25. Serve the cake and slice into it, revealing the numbers.
Recipes by Course
Recipes by Main Ingredient
Recipes by Cuisine
Recipes by Preparation
Recipes by Occasion
Recipes by Dietary