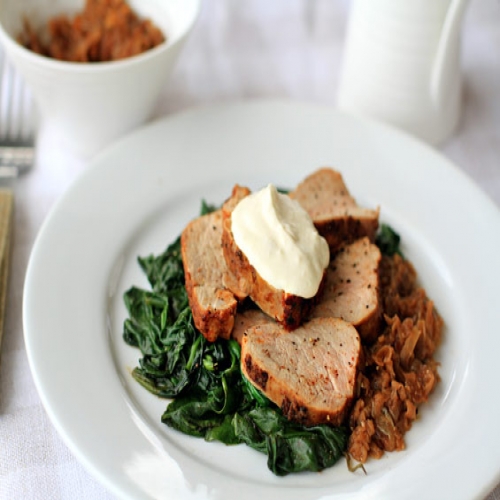 Prep Time:
Cooking Time:
Serves:
Recipe: Pork Loin Roast with Caramelised Apple Spinach & Horseradish Cream.
Category: Apples, Pork
Ingredients List
For the pork
500g free range pork loin, cut in halves
1 tsp smoked or sweet paprika
1/2 tsp pepper
1 tsp sea salt
1/2 tsp garlic powder or 1 garlic clove
2 tsp ghee
For the apple
1 white onion, peeled and finely sliced
1 green apple, peeled and grated
2/3 cup of orange juice (1 1/2 oranges)
1 1/2 tbsp lemon juice
1 tsp Allspice
A small pinch of sea salt
2 tsp coconut oil
1 bunch of spinach
1/2 tbsp olive oil
For the horseradish cream
2-3 tbsp sour cream or creme fraiche
1 1/2 tsp grated or store bought horseradish
1/2 tsp Dijon mustard
A pinch of sea salt
Directions
1. Rub pork loin with salt, garlic, paprika and pepper. Set aside while you prepare the apple condiment.

2. Heat coconut oil in a small saucepan to medium hot. Saute onion until soft and translucent. Add grated apple, Allspice, a pinch of salt and a third of orange juice. Cook on medium heat for about 5 minutes, stirring a couple of times.

3. Add another third of orange juice and continue cooking on medium heat for another 5-10 minutes. Once the apples change colour and start caramelising and browning, add the final third of the orange plus lemon juice. Cook for a further 5 minutes on a slightly higher heat.

4. Most of caramelisation and browning will happen in the last third of the cooking process. Total cooking time is about 20-25 minutes and can be done ahead of time.

5. Once apples are under way, pre-heat oven to 180C/355 F.

3. Heat ghee to sizzling hot in a frying pan. Pan fry pork loin for 2 minutes on each side to seal all the juices in. Remove to an oven proof dish, including any remaining ghee, and bake in the oven on the middle shelf for 15-20 minutes depending on the thickness of the loin. If using a meat thermometer, we"™re after 70C/158 F in the middle part of the loin. Take out cooked meat out of the oven and let it rest for 5 minutes before slicing.

7. Prepare horseradish cream by mix everything together in a bowl. Keep refrigerated until ready to serve.

8. Finally, heat a pan or saucepan to medium. Add washes spinach with a little splash of water. Cook very quickly until just slightly wilted, about 30 seconds will do. Dress up spinach with a splash of extra virgin olive oil and a little sea salt.

9. To serve, place a handful of wilted spinach and a tablespoon of caramelised apple on the bottom, layer a few sliced of roasted pork loin and a dollop of horseradish cream on top.

Recipes by Course
Recipes by Main Ingredient
Recipes by Cuisine
Recipes by Preparation
Recipes by Occasion
Recipes by Dietary