Side Pannel
Red Lentil Cauliflower Burger with Chipotle Habanero Mayo, Onion Rings, Roasted peppers.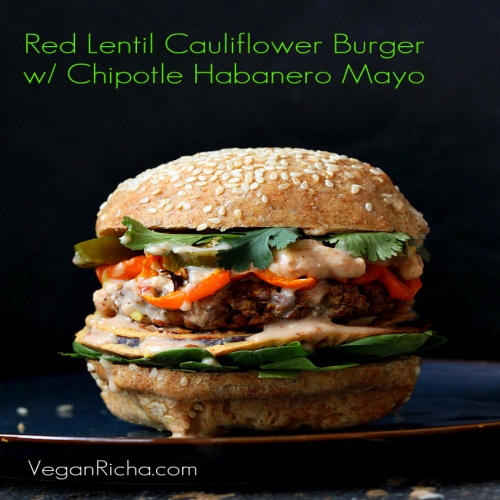 Prep Time:
Cooking Time:
Serves:

Makes 6-7 medium sized fat patties
Red Lentil Cauliflower Burger with Chipotle Habanero Mayo, Onion Rings, Roasted peppers.
Recipe Submitted by

berry

on

04/28/2014
Category: Healthy Recipes, Vegetables, Lunch/Snacks, Main Dish
Ingredients List
~~~~~~~ Lentil Cauliflower Patties ~~~~~~~
1/2 cup dried whole red/Indian brown lentils(sabut Masoor) or other lentils(brown/green) (yields about 1.5 cups of cooked lentils)
1 3/4 cups water
1/3 teaspoon salt
1/2 teaspoon garlic powder or 3-4 cloves garlic minced
1/2 teaspoon spices/spice mix of choice like berbere or garam masala
1/2 head of cauliflower grated or 1.5 - 2 cups
1 Tablespoon onion flakes
1/2 teaspoon cumin powder
1/2 piri piri or cayenne or other chili to taste
1/2 teaspoon garlic powder
1/2 teaspoon salt
1 Tablespoon olive oil(optional)
2 or more Tablespoons chickpea flour
Variations: Add spice blends like curry powder, ranch, chipotle flakes, some lemon zest, Cajun blend, ethiopian berbere.
~~~~~~~ Toppings ~~~~~~~
Baby spinach/greens
Roasted Mini Peppers
Onion Rings (Recipe below)
Pickled Jalapeno
chopped fresh Cilantro
Chipotle Habanero Mayo/cream(Recipe below)
Add Avocado slices, tomato slices or lettuce or other greens.
Directions
Patties:
Soak the lentils for half an hour or more in warm hot water.
Wash, drain, add to a pot with all the ingredients (salt, garlic, spice, 1 3/4 cupwater) and cook on low-medium, partially covered for half an hour or until easily squished. Stir a few times in between. Cook until all the water is absorbed. (drain the lentils if they are well cooked and water is not absorbed). Or use 1.5 cups of cooked lentils.

Grate the cauliflower(in a food processor, blender or by hand), spread on a parchment lined baking sheet and Bake at pre-heated 400 degrees F for 12-15 minutes until some of the cauliflower gets crisp and golden. (You can also dry roast the grated cauliflower on stove top in a large pan at medium heat for 5-6 minutes).

Add cooked red lentils, roasted cauliflower, spices, salt to a bowl and mix well. mash a bit.
Taste and adjust salt and spice.
(You can use this mixture as is to load a burger or a taco too.)
Add chickpea flour, mix until the lentil cauliflower mixture easily comes together. Add more flour or breadcrumbs if needed (depends on moisture content in the lentils, cauliflower etc) Shape into burger patties by hand or by pushing through a 3 inch cookie cutter.
Bake on parchment lined sheet for 20 minutes at 400 degrees F.
The patties can be made ahead and kept refrigerated or shaped and frozen. They can also be served as is with sauce/dressing.

Onion rings:
Mix 3 Tablespoons chickpea flour, 1/4 cup water, 1 teaspoon oil, salt, garlic powder into a paste.
Add a teaspoon rice flour for crunchyness. (optional)
Dip red onion slice in the the batter and place on parchment lined sheet.
Bake for 15 or so minutes at 400 degrees F. You can bake them when baking the cauliflower or the patties.

Roasted peppers:
Chop up the mini peppers or red pepper, and bake with the onion rings or patties for 15-20 minutes. You can toss them in oil if you want. I did not use any.

Chipotle Habanero Mayo:
Mix 1 Tablespoon Chipotle habanero(I used Melinda's Chipotle Habanero) sauce or chipotle sauce or hot sauce with 4 Tablespoons vegenaise or home made mayo or cashew cream or coconut cream.

Assemble the burger:
Top the bun with spinach/greens, some mayo, onion rings, warm Lentil patties, roasted peppers, pickled jalapenos, more chipotle habanero mayo, fresh cilantro and bun.
Or use your own toppings, raw red onion slices, pepper slices and such for a quicker fix up.

Done.
Recipes by Course
Recipes by Main Ingredient
Recipes by Cuisine
Recipes by Preparation
Recipes by Occasion
Recipes by Dietary