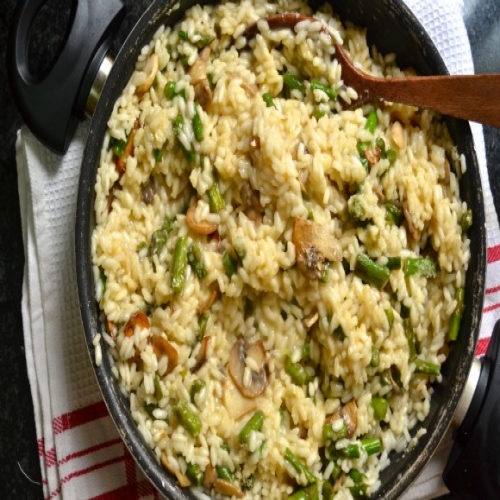 Prep Time:
Cooking Time:
Serves:
Risotto with Asparagus and Mushrooms
Category: Healthy Recipes, Mashrooms, Asparagus, Vegetarian, Vegetables
Ingredients List
300 gr arborio rice
1 cup of white wine
3 cups of chicken broth (you can make it, I use 1 1/2 cubes)
150 gr of mushrooms (I use button mushrooms usually)
200 gr of asparagus (1 bunch)
2 knobs of butter (2 tbsp)
grated parmesan cheese
Directions
This is a super easy recipe, it just needs a bit of prep, a lot of stirring and it's done in a whiff. Warm your chicken stock in a small pan, I don't know how much water exactly, about 1 litre will do, you can always add a bit more of needed later.

Chop your asparagus and mushrooms and cook in a pan with a bit of olive oil (I recommend doing this while stirring the rice so its warm).

In a large(ish) deep pan/pot heat up 2tbsp of olive oil, when hot (not sizzling though) throw in your rice, and stir nicely to get it all oil coated.

Throw in the wine and stir until it evaporates.

Put the heat on medium and start slowly throwing in the warm kitchen stock while you keep stirring nicely. When the liquid evaporates, throw in more and so on. It takes about 20 minutes for the rice to be cooked, but as always taste it beforehand, it has to be hardish outside but soft inside.

Just before taking it out throw in the cooked mushrooms and asparagus and a big dollop of butter. Stir stir stir.

Take it off the heat and mix in the parmesan cheese. You will see how creamy it is. Serve hot but let it seat 3-4 minutes before.
Recipes by Course
Recipes by Main Ingredient
Recipes by Cuisine
Recipes by Preparation
Recipes by Occasion
Recipes by Dietary