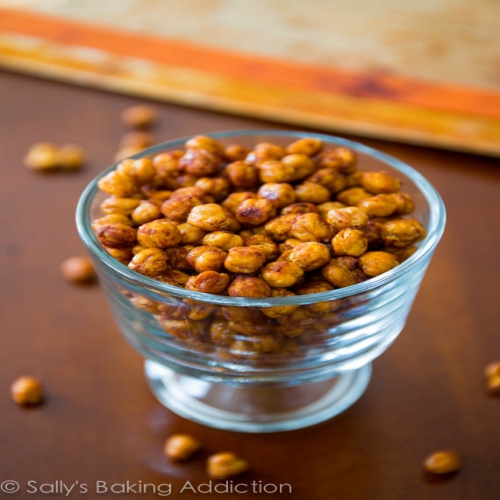 Prep Time:
Cooking Time:
Serves:

2-servings
Roasted Cinnamon-Sugar Chickpeas.
Category: Holiday, Desserts
Ingredients List
1 (15-ounce) can chick peas (garbanzos)
1 Tablespoon olive oil
2 Tablespoons granulated sugar or light/dark brown sugar
1 teaspoon ground cinnamon
Directions
Preheat oven to 400F degrees. Line a large baking sheet with a silicone baking mat. Set aside.

In a large strainer, rinse and drain the chickpeas very well to remove the starch. Spread them out onto prepared baking sheet and pat very, very dry. The drier the chickpeas, the crunchier they will be. The skin of the bean may peel off as you pat them dry. That is ok. You may remove the skins or leave them on. I like to remove them, but that takes time and is not mandatory.

Once 100% dry, place chickpeas into the oven and roast for 15 minutes. After 15 minutes, remove from the oven and drizzle with olive oil. Using a large spoon or spatula, mix the beans around to make sure they are all evenly coated. Mix the cinnamon and sugar together and sprinkle over beans. Mix around very well to heavily coat each bean. The beans will be flavorless, so you want to make sure each one is thoroughly coated. Add more cinnamon-sugar if you'd like. Place back into the oven and roast for another 15 minutes.

Leaving the chickpeas inside, turn the oven off and crack open the door slightly. Allow the chickpeas to sit inside as the oven cools down for 30 minutes. This will help them get crunchier as opposed to sitting at room temperature. Chickpeas are crunchiest on day 1. Store at room temperature.

Recipes by Course
Recipes by Main Ingredient
Recipes by Cuisine
Recipes by Preparation
Recipes by Occasion
Recipes by Dietary