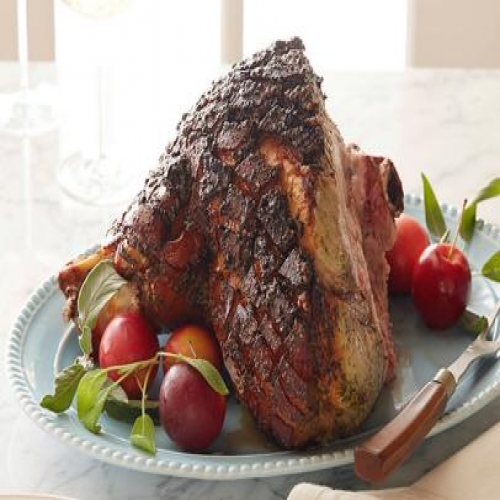 Prep Time:

40 Minutes

Cooking Time:

4 Hours

Serves:

8-10 Servings
Roasted Fresh Ham with Cider Glaze
Category: Main Dish
Ingredients List
-----------> Brine:
8 quarts water
2 cups kosher salt
1 cup firmly packed dark brown sugar
4 whole cloves
2 bay leaves
1 tablespoon mustard seeds
1 teaspoon crushed red pepper flakes
1 cinnamon stick
1 (8 to 10-pound) shank-end fresh ham, bone in and skin on
-----------> Rub and Glaze:
1/4 cup extra-virgin olive oil
1/4 cup whole-grain mustard
1 heaping cup fresh flat-leaf parsley
12 fresh sage leaves, chopped
9 large cloves garlic, peeled and chopped
1/2 teaspoon red pepper flakes
1 tablespoon kosher salt
1 teaspoon freshly ground black pepper
4 large Spanish onions, trimmed and cut into 1-inch wedges
1 gallon apple cider
2 tablespoons all-purpose flour
2 tablespoons unsalted butter, softened
Directions
One day before roasting: In a plastic container large enough to hold the ham, stir the water with the salt and brown sugar until dissolved. Add the spices. Score ham in a diamond pattern through the skin and fat, taking care not to cut into the meat. Add ham to brine, weight it with a plate to keep it submerged, and refrigerate for at least 4 hours but no more than 8 hours. Drain, rinse, pat the ham dry, and refrigerate.

One hour before roasting, remove ham from the refrigerator. Preheat the oven to 450 degrees F.

For the rub: Pulse the olive oil, mustard, parsley, sage, garlic, red pepper, salt, and black pepper in a food processor to make a paste. Rub it all over ham. In a large roasting pan, toss the onion wedges with 1 cup of the apple cider and set the ham on top. Roast the ham for 30 minutes, reduce the oven temperature to 325 degrees F, and roast until an instant-read thermometer inserted into the thickest part registers 165 degrees F, about 4 hours. After the first hour, loosely wrap aluminum foil around the bone to keep it from burning.

Meanwhile, for the glaze: Boil, then simmer, the remaining apple cider in a saucepan, skimming as needed, until syrupy and reduced to about 2 cups, about 1 1/2 hours.

During the last 1 1/2 hours of roasting the ham, brush it with the glaze every 30 minutes. Transfer the cooked ham to an ovenproof platter and let it rest in the turned-off oven for 30 minutes. Loosely cover the onions in an ovenproof bowl and put them in the oven as well. Strain the pan juices into a saucepan, skim off any excess fat, and bring to a boil. Make a paste with the flour and butter and whisk a bit at a time into the juices. Boil until thick. Carve the ham and serve with the onions and sauce.


Recipes by Course
Recipes by Main Ingredient
Recipes by Cuisine
Recipes by Preparation
Recipes by Occasion
Recipes by Dietary